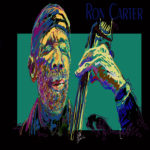 Ron Carter is among the most original, prolific, and influential bassists in jazz history, with more than 2,200 albums to his credit. He's also an accomplished cellist, having played and recorded with symphony orchestras all over the world.
From 1963 to 1968, Ron was a member of the classic and acclaimed Miles Davis Quintet. He was named Outstanding Bassist of the Decade by Detroit News, Jazz Bassist of the Year by Down Beat magazine, MVP by National Academy of Recording Arts & Sciences, and has earned two Grammy awards.
I'd like to personally thank Ron for his valuable time, and for a conversation that I'll always treasure.
Check out this @spotify playlist highlighting music from Ron's incredible career:
https://tinyurl.com/roncarterspotify