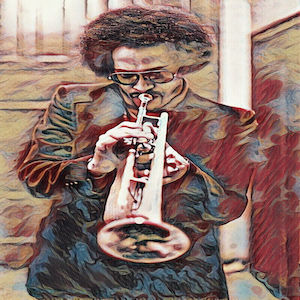 Jimmy Owens is a jazz trumpeter, composer, arranger, lecturer, and educator who has played with artists including Lionel Hampton, Charles Mingus, Hank Crawford, Dizzy Gillespie, Count Basie, Herbie Mann, among many others. Renowned as a jazz trumpeter and flugelhorn player, he boasts a career spanning over 60 years, showcasing his talents not only as a musician but also as a composer, lecturer, arranger, and music education consultant. While his discography as a leader may not be extensive, Owens has thrived through collaborative session work with various groups and band leaders. Since 1969, he has led his own group, Jimmy Owens Plus.
His musical journey is diverse, featuring achievements in ballets, movie scores, band leadership, and the creation of orchestral compositions. Throughout his musical odyssey, Owens has not only demonstrated a profound understanding of jazz concepts but has also showcased his mastery of the blues style, infusing emotionally rich atmospheres into ballads.
Originally from New York City, Jimmy Owens embarked on his trumpet journey at the age of fourteen, honing his skills under the guidance of Donald Byrd and delving into music composition with Henry Brant. By fifteen, Owens found himself sitting in with Miles Davis' band, although he did not record with them. During the late 1960s, he contributed to Marshall Brown's Newport Youth Band. Remarkably, Owens graduated from The High School of Music & Art in New York City at the young age of 14 and later pursued higher education at the University of Massachusetts, earning a master's degree in Education.
In the 1960s, Owens explored diverse musical realms as a member of the hybrid classical and rock ensemble, Ars Nova. Following Ars Nova, he joined the New York Jazz Sextet, sharing the stage with notable musicians such as Sir Roland Hanna, Ron Carter, Billy Cobham, Benny Golson, Hubert Laws, and Tom McIntosh. Since the 1970s, Owens has led his own ensemble, Jimmy Owens Plus, touring and participating in festivals and concerts worldwide. His musical travels have taken him to Asia, South and Central America, the Middle East, and various parts of Europe.
In 1969, Owens played a pivotal role in establishing the Collective Black Artist, a non-profit organization dedicated to jazz education and performance. From 1969 to 1972, he served as a sideman on The David Frost Show, under the musical direction of Dr. Billy Taylor, collaborating with esteemed musicians like Frank Wess, Seldon Powell, Barry Galbraith, and Bob Cranshaw. As he transitioned into adulthood, Owens had already garnered a strong reputation, leading to opportunities such as touring France with Duke Ellington.
In 1971, Jimmy Owens embarked on a tour of France with the Young Giants of Jazz, showcased his talent with radio orchestras in Germany and the Netherlands, and collaborated with Chuck Israels' National Jazz Ensemble. At the 1970 Newport Jazz Festival, Owens, one of the youngest trumpet players present, participated in a tribute honoring Louis Armstrong. That same year marked the release of his debut album, No Escaping It (1970), where Owens seamlessly displayed his musical prowess, blending a warm tone with decisive notation.
In 1972, Owens was selected to pay a trumpet tribute to past luminaries like Dizzy Gillespie and Roy Eldridge at the inaugural Ellington Fellowship Concert held at Yale University. Throughout the 1970s, he extensively traveled, conducting annual European Tours in Spain, France, Italy, Denmark, England, the Netherlands, and Sweden. During this period, Owens earned acclaim in orchestral and symphonic music, making guest appearances with esteemed ensembles such as the Southern University Symphony Orchestra, the Rochester Philharmonic Orchestra, the Symphony of the New World, and the Hannover Radio Philharmonic Orchestra. A notable highlight of the 1970s was his participation in the U.S. tour called the Western States Arts Foundation Tour.
In 1972, he initiated his community involvement by joining the National Endowment for the Arts music panel, a commitment that lasted until 1976. This organization aimed to support various organizations and individual artists. From 1977 to 1981, Owens served on the music panel for the New York State Council on the Arts, contributing to the funding of cultural organizations in New York State.
Throughout the 1980s, Jimmy Owens continued to exhibit unwavering passion for music. Undeterred, he explored international landscapes, participating in diverse festivals and concerts across various countries. His musical pursuits extended to the Middle East and Africa during the Tour of North Africa and the Middle East, sponsored by the U.S. State Department (1981). The ensemble Jimmy Owens Plus embarked on a South American Tour in 1983 and 1986, captivating audiences across the continent. Additionally, they graced Central America with their musical presence during the Tour of Caribbean, Central and South America in 1989.
In recognition of his outstanding contributions, Owens garnered several awards in the 1980s. Notable honors include the 'Survival of the Black Artist Award' (1980) from Howard University, the International Success Award (1983) from the Marabu Club in Italy, and the "Manhattan Borough President's Award for Excellence in the Arts" (1986). In 1989, Owens showcased his musical prowess with the release of the album "The Jazz Mobile Allstars," featuring a stellar lineup including Billy Taylor, Frank Wess, Victor Gaskin, Ted Dunbar, and Bobby Thomas.
In 1990, the Jazz Musicians' Emergency Fund was established to provide medical, financial, and housing assistance to individual musicians. This initiative, conceived by Jamil Nasser and Jimmy Owens, prioritized aiding individual jazz musicians over organizations. The program not only extended financial support but also offered counseling for career development and substance abuse. Simultaneously, Owens assumed a part-time role as an instructor at the New School Jazz and Contemporary Music Program in 1990, teaching private lessons, covering the business aspects of the music industry, and leading various ensemble classes.
Throughout the 1990s, Owens actively participated in jazz festivals across Austria, England, and the U.S. He served as a guest soloist in performances by various bands in both America and Europe. In 1996, Owens, alongside Bob Crenshaw, Jamil Nasser, and Benny Powell, played a key role in revitalizing the Jazz Advisory Committee at Local 802 in New York City. This committee advises Local 802 on conflicts affecting jazz artists and seeks resolution strategies. Additionally, Owens contributed as a member of the negotiating committee dedicated to securing health and pension benefits, as well as scheduled wage increases for the faculty at the New School.
Entering the new millennium, Jimmy Owens maintained a moderate involvement in programs and events dedicated to giving back to various communities. He graced performances at diverse gatherings, including Giants of Jazz (2002–09) in New Jersey, the Cab Calloway Tribute (2005) in Japan, and the Dizzy Gillespie Tribute (2005–07) in New York City. Owens' global presence extended to numerous festivals, such as the Graz Jazz Festival (2004) in Graz, Austria, the World Music Festival (2005) in Bahia, Brazil, the Novokuznesk Jazz Festival (2005) in Siberia, various celebrations in Italy, and the Jazz Town Jazz Club (2005) in Moscow, Russia.
In 2007, Owens unveiled the album Peaceful Walking, recorded in Italy and featuring original compositions performed with the accomplished Italian trio Capiozzo-Mecco & Santimone (drum-hammond-guitar). Continuing his creative journey, Owens released the album Monk Project in 2012. This work pays tribute to the life and musical innovations of jazz pianist Thelonious Monk, who passed away in 1982.
Owens actively engages in the jazz education community and holds a position on the board of the Jazz Foundation of America, established in 1989. His innovative and highly skilled approach to jazz encompasses every facet of the genre, making him a noteworthy figure in the field. Beyond his significant contributions as a professional musician, Owens stands out as a vocal advocate for the welfare of musicians and the preservation of jazz culture in America, exemplifying his generosity towards others. As a revered composer, Owens has achieved momentous success, with his compositions being nationally performed by orchestras like the Rochester Philharmonic Orchestra and the Brooklyn Philharmonic Orchestra. Internationally, his music resonates with audiences through performances by the Metropole Orchestra in the Netherlands and the Hanover Radio Philharmonic Orchestra in Germany. In his role as a music educator, Owens has conducted workshops, led seminars, delivered lectures, and held concerts at numerous institutes worldwide, further enriching his multifaceted career.
For more information about Jimmy's NEA Jazz Masters concert at Flushing Town Hall on December 15, 2023, please click here.