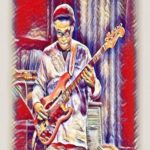 Wilbur "Bad" Bascomb has played some of the toughest basslines in the history of music–a fact well-known to the cratediggers who will pick up a vinyl piece on the strength of his name being listed amongst the personnel alone.
Hailing from Washington Heights, New York, Wilbur is the son of trumpeter Wilbur Bascomb, Sr. (Erskine Hawkins Orchestra and Duke Ellington). Exposed to music at a young age, he took to the bass guitar and matured as a player in New York City. His career began to blossom in the early 1970s and over the next decade, Bascomb racked up touring and recording credits with B.B. King, Hank Crawford, George Benson, Bo Diddley, Mick Taylor, The Players Association, and many others. He frequently found himself grooving alongside drummer Bernard Purdie, working as a tight knit and undeniably funky rhythm section.
His credits are immense and impressive, and his music and/or bass playing has been sampled by artists like Public Enemy, Tyler, the Creator, DJ Shadow & Cut Chemist, Kid Cudi, and Doug E. Fresh.
Biographical information courtesy Okayplayer and No Treble.