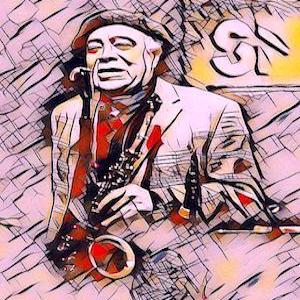 James Spaulding established his reputation as a masterful jazz soloist for ensemble performances, and for many years was among the busier sidemen for Blue Note Records. An exceptional saxophonist and flautist, he is one of the many fine artists to come out of Indianapolis. James has worked with Sun Ra, Freddie Hubbard, Max Roach, and more. James is a modernist, with solid roots in classical jazz; his saxophone style is an extension of the Charlie Parker influence, but his overall concept incorporates much of the broad jazz saxophone heritage.
Spaulding's musical training started early, as he came from a musical family in his place of birth Indiana (his father was a professional musician who played the guitar and led his own big band, traveling throughout the country). James began playing a bugle when he was in grade school. He later took up the trumpet and saxophone on his own, and while in high school studied clarinet. He made his professional debut playing around Indianapolis with a rhythm 'n' blues group.
From 1954 to 1957, Spaulding was in the Army, playing in service bands. When he was discharged, he settled in Chicago where he performed in clubs leading his own group, and had a stay with the Sun Ra Orchestra. He also furthered his flute studies there at the Chicago Cosmopolitan School of Music. In 1962, he arrived in New York City, and subsequently was associated with notables such as Freddie Hubbard, Bobby Hutcherson, Max Roach and the Ellington Orchestra. In 1975, he received a bachelor's degree in music from Livingston College in New Jersey where he taught flute as an adjunct professor. Daughters Gina and Yvonne Spaulding appeared on the cover of his very first recording, James Spaulding Plays the Legacy of Duke Ellington, recorded in 1975. Mr. Spaulding's range of performance experiences extends nationally and internationally, from the concert stage to jazz clubs to colleges and street fairs. His original music, a suite entitled A Song of Courage, was performed by him with full orchestra and choir at the Voorhees Chapel at the Rutgers University campus from funds awarded him by the National Endowment for the Arts. He holds a historically significant place in jazz reference books including, The Encyclopedia of Jazz in the Seventies by Leonard Feather and Ira Gitler; The New Grove Dictionary of Jazz by Brian Case and Stan Britt; The Illustrated Encyclopedia of Jazz edited by Barry Keinfeld, just to name a few.
You can buy James' memoir here.