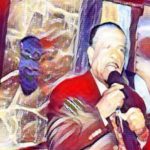 Singer Hank Carbo only cut a few 45's during his short recording career–but one of them, 1971's "Hot Pants Too," went on to become a deep funk classic, ultimately being included on the widely influential Ultimate Breaks & Beats compilation.
Originally from New Orleans, Carbo (along with his brothers) were all heavily involved in the Crescent City funk scene. After joining the Navy, Carbo relocated to Los Angeles, where he would ultimately record a string of 45's—both with his brother Claude and as a solo artist—that made a bit of noise around the West Coast. He opened shows for Ike & Tina Turner and toured the Chitlin' Circuit.
While his solo career never quite took off, Hank continues to perform, and although his few recordings remain obscure, Hank's contribution to the holy funk 45 mythology is unquestioned.