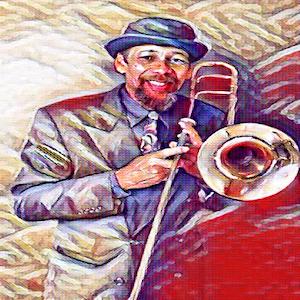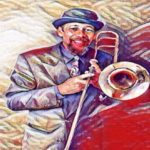 Trombonist Phil Ranelin is one of the Detroit jazz scene's unsung heroes, releasing several excellent, politicized albums that blended post-Coltrane avant-garde jazz, post-Bitches Brew psychedelia, hard bop, funk, and African rhythms.
He launched his career playing with guitarist Wes Montgomery, trumpeter Freddie Hubbard, and others in his hometown of Indianapolis. He moved to Detroit in 1968 and, with clarinetist Wendell Harrison, began to pioneer his own projects as a founder of the Tribe, a musicians' collective in the same vein as the Association for the Advancement of Creative Music in Chicago, the Black Artists Group in St. Louis and the Underground Musicians' Association in Los Angeles. In addition to Ranelin and Harrison, the group included McKinney and Belgrave, pianist Kenny Cox, drummer Doug Hammond and trumpeter Charles Moore. The members of the collective performed together, released their work on their own record label, and produced a quarterly magazine, all with an eye toward promoting progressive sounds as well as a growing black political consciousness.
Since 1977 Ranelin has been a mainstay of the Los Angeles jazz scene, performing regularly with Hubbard and leading his own outfits, the Phil Ranelin Jazz Ensemble and Phil Ranelin & Tribe Renaissance. The latter group was formed to celebrate the style of Ranelin and Harrison's collective, whose music has enjoyed a resurgence due to several reissues and compilations on the Hefty and Soul Jazz labels.
Ranelin has enjoyed a renewed public interest in his early recordings since Chicago's Hefty Records reissued The Time Is Now and Vibes from the Tribe in 2001, remixed and remastered by John McEntire of the experimental rock outfit Tortoise. The resurgence was further spurred by Tribe anthologies issued by the British label Soul Jazz and the Japanese label P-Vine. Ranelin also plays with several L.A.-based outfits, including the Horace Tapscott Sextet, the Pan Afrikan Peoples' Arkestra, the Michael Session Sextet, and The Tambau International Ensemble. In 2004 he released Inspiration on the San Francisco-based hip-hop label Wide Hive. The album features original compositions dedicated to McKinney, pianist Tapscott, saxophonist John Coltrane, reed player Eric Dolphy, and trombonist J.J. Johnson, among others.(Bio courtesy Kristin Palm and Steve Huey)