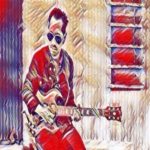 Adrian Quesada is a Grammy Award-winning producer and guitarist based in Austin, TX. He is currently best known as a member and producer of Black Pumas, a psychedelic soul band with singer Eric Burton. Adrian has also been a co-founder of the bands Grupo Fantasma, Brownout, Ocote Soul Sounds, and Spanish Gold.
Black Pumas were nominated for three Grammys, including Album of the Year and Record of the Year, for the 2021 Grammy Awards. Quesada has worked with or performed with artists as diverse as Prince, Los Lobos, Daniel Johnston, GZA, Miguel, Kali Uchis and many more. Quesada is an in-demand producer and owns and operates Electric Deluxe Recorders, an analog recording studio in East Austin.
In the film world, Quesada produced the soundtrack/score to the award winning (2007 Audience Award winner SXSW Film Fest) documentary "Inside the Circle" which debuted on MTV in early 2009 and contributed music to various other films and projects, including 2009 documentary "The Least of These."
His music has been featured on MTV, HBO, and Showtime; in print his work has been covered in The Fader, Texas Monthly, The Washington Post, Billboard and more. He has also been featured on NPR, PRI, popular blogs such as Okayplayer.com and Soul Sides.