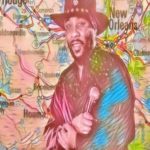 Soul singer Millard Leon "Willie" West was born in Raceland, LA, near the city where his music career got off the ground, New Orleans. West, while never widely known outside soul aficionado circles, did produce a string of classic 45s on numerous labels in the '60s & early '70s including Rustone, Deesu, Chess, Josie, Warner Bros and Frisco. He recorded with seminal NOLA figures like Allen Toussaint and was backed by The Meters on some of his singles. One of those 45s, 1970's "Fairchild," features a swampy bayou funk groove and smooth-as-silk vocals from West. It remains his most well-known track (original pressings of the 45 often fetch upwards of $500) and is revered as a classic soul single.
West was also an "unofficial" touring member of the Meters in the late 1970s until they broke up in 1980. A regular performer at the tourist packed bars on Bourbon Street for 20 years, West did not get a full album-length recording out until 1999 when his debut CD, From West With Love, was released.
Following Hurricane Katrina, Willie moved to the Minneapolis/Saint Cloud area and has been there ever since. In 2009, Willie began recording music for the Finnish label Timmion, releasing several excellent 45s and two full-length albums.