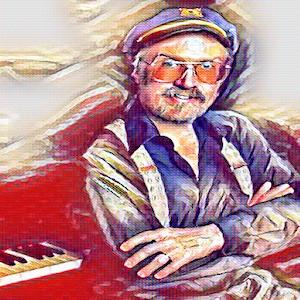 David Matthews is a keyboardist, pianist, and arranger perhaps best known for his stint as James Brown's bandleader/arranger in the '70s.
The son of a Methodist minister, Matthews was born in Sonora, Kentucky on March 4, 1942. He was educated at the University of Cincinnati where he received a Bachelor of Music degree in Composition from its Conservatory of Music. From 1966-68, David led a jazz dance band on tour in Germany and Italy. During the next two years he played in jazz clubs in and around Cincinnati. From 1970-74 he was the arranger and bandleader for James Brown Productions. In 1970, Matthews released his psychedelic funk opus, "The Grodeck Whipperjenny," which was the first LP issued on James Brown's People label.
In 1971, David moved to New York where he worked steadily as a freelance arranger and writer. He worked on albums, singles, radio and TV commercials and film scores. He also arranged or composed albums or tracks for Buddy Rich, Mark Murphy, Bonnie Raitt, T Bone Walker, Blue Mitchell, the JBs, Starland Vocal Band, Stephanie Mills, Earl Klugh, Phoebe Snow, Donald Byrd, Crystal Gayle, David Sanborn and Paul Simon.
From 1975-78 David was the staff arranger for CTI Records, writing, arranging and producing records for stars such as Nina Simone, Hank Crawford, Art Farmer, Joe Farrell, Ron Carter, Idris Muhammad, Jim Hall and George Benson.
David was the musical director for the original Simon and Garfunkel Reunion Concert in Central Park. He also arranged the Radio City Memorial Concert for John Lennon by the Cincinnati Pops Orchestra, Julian Lennon's debut album Valotte, Robert Plant's The Honeydrippers, Volume One, Paul McCartney's "Angry", Frank Sinatra's L.A. Is My Lady and Billy Joel's An Innocent Man, followed by Billy's hit singles "Easy Money" and "Second Wind".
In recent years there has been a resurgence of interest in David's music both from his James Brown period and the music he wrote in the 1970s. He's been sampled by many hip hop artists such as The Notorious B.I.G, Nas, Methodman and Redman and The Large Professor. His album Dune is in the Hip Hop Hall of Fame.