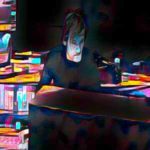 Geoff Barrow is a producer, composer, DJ, and instrumentalist, renowned for his work with the band Portishead. He is also a member of the band BEAK> and the hip-hop supergroup Quakers, in addition to his prolific work as a film score composer.
Before Portishead formed in 1991, Barrow worked at Bristol, England's Coach House studio, where he met Massive Attack and then Tricky. During that time, Barrow's reputation as a remix producer grew as he worked on tracks by Primal Scream, Paul Weller, Gabrielle, and Depeche Mode. After he met singer Beth Gibbons in 1991, the pair began writing songs together with guitarist Adrian Utley, who eventually became the group's third member. Portishead's short film "To Kill a Dead Man," which featured the group's music and Gibbons and Barrow as actors, attracted the attention of Go! Records, who signed the band and released its debut, Dummy, in 1994. Dummy earned near-instant unanimous acclaim in the U.K., including the Mercury Music Prize. Soon after winning that award, Barrow began work on Portishead's second, self-titled album, which surfaced in 1997 and was followed by the live album PNYC.
The band went on hiatus in 1999, allowing Barrow more time to work on other projects. He formed the Invada label in 2001 and did a lot of production work, some of it with Utley, such as Stephanie McKay's 2003 album McKay and the Coral's 2005 album The Invisible Invasion, and some on his own. Portishead returned in 2005, and after playing their first live dates in seven years, began working on their third album. Simply titled Third, it appeared in 2008 and was some of their most challenging music to date. That year, Barrow played with bassist Billy Fuller and keyboardist Matt Williams at a jam session during Invada's Christmas party and formed the dub-meets-Krautrock outfit Beak> early in 2009.
Around this time, Barrow also started work on two other projects: Quakers, an underground hip-hop collective that featured Invada Records producers 7-Stu-7 and Katalyst, as well as over 30 MCs who spanned talented underground rappers, golden-age hip-hop veterans, and a wealth of Stones Throw artists; and Drokk, a collaboration with composer Ben Salisbury inspired by the long-running comic strip Judge Dredd. Quakers' self-titled album and Drokk: Music Inspired by Mega-City One both arrived in early 2012, shortly before a new Beak> album, >>, was released. The following year, Barrow reunited with Salisbury for the music to Alex Garland's artificial intelligence thriller "Ex Machina"; the score was released in 2015. In 2016, Invada issued the pair's music for "Men Against Fire," an episode from the third season of the cult favorite TV show Black Mirror. Salisbury and Barrow also collaborated on the score to Ben Wheatley's 2016 film "Free Fire" as well as the music for the 2017 Garland film "Annihilation."
His most recent film scores with Ben Salisbury include Devs (2020), Archive 81 (2021), and Men (2022).