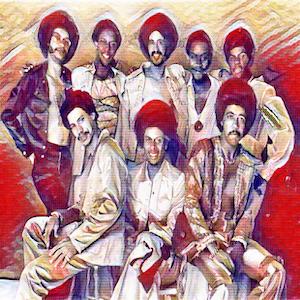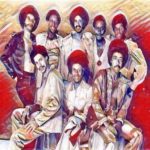 Dwight Richards is/was the drummer for the funk/soul band Chocolate Milk, a New Orleans ensemble who enjoyed success in the mid-'70s through the early 1980s. The band was formed in 1974, and included: Frank Richard (vocals), Amadee Castenell (saxophone), Joseph Fox (trumpet), Mario Tio (guitars), Earnest Dabon (bass), Robert Dabon (keyboards/piano) and Dwight Richards (drums/percussion).
In the tradition of many fledgling young musicians in NOLA, Chocolate Milk started out playing for tourists on world-famous Bourbon Street. Chocolate Milk began working as the studio group for Allen Toussaint, following the tenure of the Meters as Toussaint's studio band. (They also backed Toussaint as a live band and on his album New Orleans Jazz and Heritage Festival 1976, and also recorded with Paul McCartney.) The band eventually signed with RCA Records.
Their first of eight albums released on RCA was Action Speaks Louder than Words. As Dusty Groove wrote of the record: "…the album showed that producers Toussaint and Sehorn could easily hit the hipper notes of the 70s: there's a tight rhythmic sound at the core of most numbers, but expanded instrumentation over the top – bits of spacey electrics or jazzier electronics that showed that, with the right group, New Orleans funk could easily take on the hippest styles going down on both coasts." The title cut has a break beat that has been sampled numerous times in hip hop music, including "Move the Crowd" from the 1987 album Paid in Full by Eric B. & Rakim, and "Don't Let Your Mouth Write a Check Your Ass Can't Cash" (1991) by Stetsasonic. Chocolate Milk's music would end up being sampled dozens of times over the following years.
The band became known for other hit songs, including: "Girl Callin'" (1978), "Say Won't Cha" (1979), and "I'm Your Radio" (1980). They were also known for the versatility in their musical styles, later adding elements of disco, prevalent on their 1981 hit, "Blue Jeans" which peaked at number fifteen on the soul chart. Chocolate Milk broke up in 1983 due to the waning popularity of disco, numerous personnel changes, and changes in producers after splitting with Toussaint in 1980. After some time passed, Chocolate Milk reunited sporadically for concerts, and Dwight continues to be a mainstay in the New Orleans music scene.