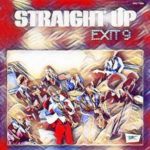 On this episode of the podcast, Hollis Googe (lead guitar, background vocals) and Michael Pelzer (bass, background vocals) join us as we dive into the one and only album by their band, Exit 9 — an obscure combo who recorded their jazz-funk classic Straight Up for Brunswick in 1975. The band consisted of a group of young musicians from the New York area, whose average age was remarkably only between 16 and 18 years old.
Exit 9 originally started as a combo, but after several changes, they recruited more members– most notably a horn section. Working under the name Qualified Funk, the band began to make a name for itself around the Tri-State area. Once John Jenkins and Modeste Clarke became their managers, the band changed its name to Exit 9.
As Dusty Groove wrote of the album: "Exit 9′s pre-disco approach to dancefloor grooves — more fast-funk than the tighter club sound of later years, and proof that a funky combo could hit the dancefloor if it had the right groove—included lots of nice guitar work that kept a rawer edge on the tracks—choppy and gritty in a really great way."
While the album failed to make a dent upon its release in 1975, it has since become a highly collectible record amongst crate diggers, with original pressings often fetching upwards of $200.