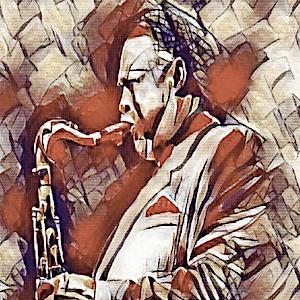 Dubbed "the natural heir to the Boss Tenor crown worn so long and so well by Gene Ammons" (Bob Porter), global performer Houston Person knows the music business inside out, from booking his own tours to producing his own albums. As eclectic as he is talented, Person has recorded everything from disco and gospel to pop and r&b, in addition to his trademark, soulful hard bop. After years as producer and house tenor for HighNote Records and touring with the late Etta Jones, Person is now known as a master of popular songs played in a relaxed, highly accessible style reminiscent of the great Ben Webster.

Person grew up in Florence, South Carolina, and remembers his parents listening to lots of music at home, including jazz. First playing piano before switching to the tenor sax at age 17, he went on to study music at South Carolina State College (where he is included in the school's Hall of Fame), and later pursued advanced studies at Hartt College of Music in Hartford, Connecticut. As a member of the United States Air Force band stationed in Germany, he played with Eddie Harris, Cedar Walton, and Don Ellis, later working as a sideman for organist Johnny "Hammond" Smith in the mid 1960s. Person built his reputation as a leader with a series of soulful recordings for Prestige in the 60s. However, for a large part of his career he was best-known for his legendary partnership with the great vocalist, Etta Jones, which lasted over 30 years until her death in 2001. He has also performed with vocalist Barbara Morrison, the great Ernie Andrews and in the past has worked with Ernestine Anderson, Della Griffin and Dakota Staton.

Houston's appearances as sideman are legion, and include recordings with Etta Jones, Lena Horne, Lou Rawls, Horace Silver, Charles Earland, Joey DeFrancesco, and many others. As a record producer, he has worked with many artists, including Etta Jones, Freddy Cole, Charles Brown, and David 'Fathead' Newman. In 1990, his recording with Ron Carter, Something in Common (Muse), won the Independent Jazz Record of the Year Award, and he received an Indie Award for his recording, Why Not? (Muse). Other awards have included the prestigious Eubie Blake Jazz Award (1982) and the Fred Hampton Scholarship Fund Image Award (1993), and he has been honored with a "Houston Person/Etta Jones Day" in Hartford County, MD (1982) and in Washington, DC (1983). Houston Person has recorded over 150 albums as a leader on Prestige, Westbound, Mercury, Savoy, and Muse, which became HighNote Records. His HighNote recordings as both tenor artist and producer, My Buddy: Etta Jones Sings the Songs of Buddy Johnson and Etta Jones Sings Lady Day, were Grammy finalists in the Best Jazz Vocal category in 1999 and 2000, respectively.

Wrote Gary Giddens in the Village Voice: "I have always admired Houston Person for his huge tone, bluff
humor, and pointed obbligato…Person lucidly rides the beat with figures you think you've heard but haven't. These are not recycled licks or clichés; they simply seem familiar, like family… gray hair aside, Person is unchanged, an unmoved mover of certain jazz essentials." Ask him what's important in his music, and Houston Person notes that, "It's important that it's relaxing…Relaxes you and makes you feel good… I'm going to always play the things that I think contributes to good jazz, such as the blues and swinging."