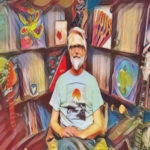 On this episode of Sounds Visual spinoff series How Deep Is Your Crate, producer/musician/composer Dan Ubick phoned in to talk about some of his newest projects–and to share a few favorite LP's from his shelves.
Dan grew up with music- his father Richard played jazz bass, his mom listened to the Beatles and classical music while designing jewelry while Dan's older brother and sisters listened to Bowie, Traffic, The English Beat, Yes, Genesis, T. Rex and Zeppelin.
However, it was Dan's little sister who turned him onto rap music in the late 80's through to the early 90's; Public Enemy, Beastie Boys, ATCQ, B.D.P. and Big Daddy Kane created endless possibilities. Soul, jazz, rock, country, funk and reggae all melded together perfectly.
Later on Dan's friend Miles Tackett asked him to play guitar in the Breakestra which he did for six years traveling to Europe, Canada, the States and Japan backing everyone from Jurassic 5, Black Eyed Peas and Dilated Peoples to Quannum, Wu-Tang and Freestyle Fellowship. Dan got to play on Breakestra's Live Mix Part 1 (Color Red) and Live Mix Part 2 (Stones Throw).
Dan absorbed all kinds of music – from Little Feat to Lalo Schifrin, Fela Kuti to Cymande, Jorge Ben to The Band and The Mighty Diamonds to the Roots Radics. As his record collection grew so did his interest in making records of his own in an attempt to add something new and different to this incredible legacy that he grew up on.
Motivated, Dan built his own Lion's Den studio piece by piece, mic by mic and reel to reel, began to practice other instruments more and collaborated with Blood Of Abraham and Will.I.Am, then Madlib and Macy Gray. Dan started writing and putting out his own material, first as Connie Price and the Keystones (Now Again Records & Ubiquity), then with The Lions (first on Ubiquity, now on Stones Throw) while concurrently producing for television, film, gaming and advertising.
Currently Dan has been producing the groups Night Owls and The Mad Geezers (F-Spot Records and NYCT). Night Owls features fellow Lions Dave Wilder (Macy Gray, Norah Jones, Ziggy Marley) on bass, Blake Colie (The Lions, Arise Roots, Hollie Cook) on drums and Roger Rivas (the Aggrolites, Long Beach Dub All Stars, Jason Mraz) on keys doing all reggae interpretations of classic American Soul songs with singers like Durand Jones, Chris Dowd, Kendra Morris, Sy Smith and more. The Mad Geezers is Ubick, Wilder and Rivas again but with Oliver Charles (Ben Harper & The Innocent Criminals) on drums doing all original music save for one reggaefied cover of "Hip Hug-Her" by Booker T. & the MG's.
As a studio and live musician Dan has played guitar behind Lily Allen, Joey Altruda's Crucial Riddims, Mulatu Astatke, the Beat Junkies (DJ Babu, JRocc & Rhettmatic), the Beatnuts, Big Daddy Kane, John Bingham, Biz Markie, Aloe Blacc, Black Eyed Peas, Black Shakespeare, Blood Of Abraham, Blue States, Eddie Bo, Brand Nubian, Breakestra feat. James Gadson, Brother J (X Clan), Busta Rhymes, Colbie Caillat with The Transcenders, Novena Carmel, Tia Carrere, Common, Hollie Cook, Craig G, N'Dea Davenport, De La Soul, Dilated Peoples, Chris Dowd, Eamon, EPMD, Kelly Finnigan, DJ Format, Neal Francis, Ghostface Killah, Macy Gray, DJ Greyboy, Leroy Sibbles & Barry Llewellyn (the Heptones), Durand Jones, Sharon Jones, Lonnie Jordan (War), Jungle Fire, Jurassic 5, Kurtis Blow, Talib Kweli, Lady Of Rage, Barrington Levy, The Lions, The Mad Geezers, Madlib's Sound Directions, Masta Ace, Maxim (Prodigy), Method Man, M.O.P., Keyboard Money Mark, The Monophonics, Kendra Morris, Mos Def, Jay "J-Zone" Mumford, Chris Murray, Jeremy Sole's Musaics, Myron & E, Night Owls, DJ Numark, Ohmega Watts, Orgone, Percee P, Playing For Change, The Pharcyde, Adrian Quesada (Boleros Psicodélicos), Rakim, Ranking Joe, Rapsody, Redman, Eli "Paperboy" Reed, The Rhythm Roots All Stars, Sixto "Searching For Sugar Man" Rodriguez, Sa-Ra, Sandy Gold, Noelle Scaggs, Slick Rick, Snoop Lion, Ta'raach, Jr. Thomas, Tippa Lee, Too $hort, Trish Toledo, Jade Vincent, Bunny Wailer, Fred Wesley, Wildchild, Wu Tang Clan and many more.