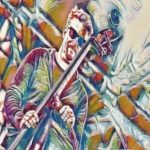 On this episode of the Sounds Visual spinoff series How Deep Is Your Crate, bassist/composer Clark Sommers talks about his upcoming album Feast Ephemera (release date: September 15, 2023 via Irabbagast Records), and shares some favorite LP's from his crates.
First call Chicago bassist Clark Sommers, perhaps best known for his long, and ongoing, tenure with Kurt Elling, has an enviable CV, with appearances on stage and in studio with The Chicago Yestet, Jeff Parker, Matt Gold, Darrell Grant, Joe Locke, Gary Versace and many others. He has also led his own ensembles including his open-sky trio Ba(SH) and the quintet, Clark Sommers Lens. As busy and in demand as Sommers is, a true artist keeps growing and expanding; they continually search for outlets for creative impulses that are simply boiling over inside of them. And that is precisely what Sommers did. "I wanted to get deeper into writing," said Sommers. "I wanted to see what I could do if I had the capacity to add more texture to a group – to go further into the exploration of harmonic possibilities, and to try spreading out the sounds using different instruments." With that in mind, he enrolled as a Masters student in composition at DePaul University, with the aim of enlarging his tonal palette while expanding the scope of his work.
Sommers still had no plans to write charts for a traditional jazz orchestra, or to write such an expansive suite, as he has done here. ("Man, why would I do that now, in 2020? What's the point?" he remembers thinking.) He admires the power and sweep of the classic big bands led by Ellington and Basie – who wouldn't? – and the unsurpassed arrangements that Nelson Riddle wrote for the likes of Fitzgerald and Sinatra; he just didn't see those as a model for himself. But, he was intrigued by the 12-piece band in the composition workshop at DePaul run by his Ba(SH) bandmate, the formidable drummer, composer and long-time friend and collaborator Dana Hall. "I really started to get into this more streamlined version of a big band," says Sommers; "I felt I could do more with counterpoint in a way that wasn't so dense – like I could keep some of the small-group ethos but with a few more players."
During the workshop, Sommers attempted writing a new introduction for one of his older pieces, and inadvertently composed an entirely new piece, "Pedals," which contemplatively treats the listener to tiers of burnished brass, solos from trombonist Joel Adams and saxophonist Nick Mazzarella, and then the unexpected timbres of organ and flute. Subtly authoritative, it belies the fact that it is the first composition Sommers completed for this instrumentation. Encouraged by "Pedals," he then wrote "Chance Encounter," and got to hear it played at DePaul, in March, 2020 – only days before COVID-19 upended the world.
The pandemic made virtual hermits of almost everyone, and especially those whose lives and work revolved around real-time interplay and synergistic creativity – you know, musicians. Cut off from audiences and colleagues, going a bit stir-crazy at home, Sommers channeled his energy and frustration into his new avocation. He began to write the pieces heard on Feast Ephemera – pieces that quickly gained a significance beyond the music itself. Over time and through diligent hard work, Sommers found himself with a suite of music, with each composition a chapter in this story, told from the heart by Sommers through rhythm, harmony, melody, counterpoint, and many other ingredients that make music like this such a joyful, life-affirming pleasure to listen to.