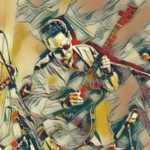 On this episode of the Sounds Visual spinoff series How Deep Is Your Crate, guitarist/songwriter Gideon King phones in to talk about his band City Blog's new EP Splinters, and shares some favorite LP's from his crates.
As the founder and primary songwriter of City Blog, Gideon takes inspiration from the streets of his native New York City, and with artistic input from the band's core collaborators, channels it into vibrantly varied fusion-pop. Gideon is a self-taught virtuosic guitarist who writes without a focus on genre, preferring to experiment with complex harmonic, rhythms, and abstract lyrical patterns instead. His sound has been favorably compared to Steely Dan blended and Stevie Wonder, exploring funk, balmy 1970's classic rock, piano ballads, R&B, soul-pop, and fusion. He's a cleverly-poetic lyricist who pens impressionistic songs that don't rely on linear narratives, and the band has earned accolades from outlets like All About Jazz, Jazziz, OffBeat, American Songwriter, and others.
Originally, Gideon conceived of City Blog as having a fluid membership where he would serve as the common denominator and other musicians would rotate in. His approach was informed by Steely Dan where the right cast of musicians would be summoned on a song-by-song basis. Over time, the band has had the rare distinction of being joined by such masterful musicians as John Scofield (Charlies Mingus, Miles Davis), sax legend Donny McCaslin (David Bowie, Bobby McFerrin), renowned "Bayou-soul" singer-songwriter Marc Broussard, and SNL bassist James Genus (Herbie Hancock, Chick Corea), among others. Appearing regularly at venerable NYC venues such as City Winery, Joe's Pub, and the Blue Note, the core band has coalesced around an 8-person configuration, which includes three renowned vocalists and A-list musicians who have each collaborated with a range of top artists like Solange, Dave Brubeck, Aretha Franklin, Lauryn Hill, and more.