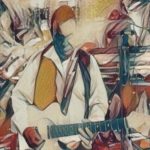 To hear Ernie Vincent and the Top Notes' "Dap Walk" for the first time is like standing in a hurricane of funk. It's three minutes of the most perfect, heaviest funk music you've ever heard.
A product of New Orleans rhythm and blues, Ernie Vincent has been on the music scene since the mid 1960's, playing R&B/funk and collaborating with the likes of Ernie K-Doe, King Floyd, Tommy Ridgley, Oliver Morgan, Irving Bannister, Eddie Bo, Jessie Hill and more. In the early 70's Ernie broke loose and created his own band and signature sound with the Top Notes, churning out smash hits like and "Things are Better" and "Dap Walk" for which Vincent has gone down in the deep funk history books. "Dap Walk", that unhinged masterpiece of wah wah guitar, multiple drum breakdowns, and positive ghetto messages, is to this day a cult classic all over the world.
Ernie has been a special guest at the New Orleans Jazz and Heritage Festival for many years, and he continued playing the club scene in New Orleans and music festivals worldwide either as a front man or backing such artists as Joe Tex, Solomon Burke, Alex Spearman and many of the indigenous Mardi Gras Indian bands such as the Wild Magnolias and Big Chief Monk Boudreaux and the Golden Eagles. Most recently, Ernie Vincent and his newly reformed Top Notes band have been electrifying crowds regularly with his signature "wah wah guitar" mastery in and around New Orleans at clubs and festivals since reforming his Top Notes band in June of 09. Since then the band released Party on the Bayou: Live at D.B.A., and in early 2013 they released a new studio cd entitled Ernie Vincent Presents Louisiana Magic. Additionally in mid 2012, Ernie Vincent was honored and inducted into the Louisiana Music Hall of Fame.
"Dap Walk" has been sampled by Cut Chemist and Handsome Boy Modeling School, among others, and is a staple on countless funk compilations, playlists, and DJ sets.
Bio courtesy the Kennedy Center.
Support Ernie and check out his new album here.