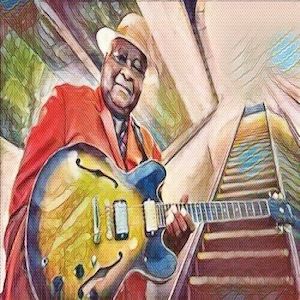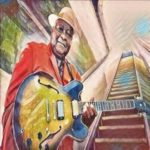 Since the late 1950s, singer, guitarist, and songwriter Arthur Adams has been a recording artist, go-to session ace, and touring sideman who plays blues, jazz, gospel, R&B, and pop. A prolific songwriter,with a blues style that incorporated a variety of genres, and a vocalist with a funky, soul-driven sound, Adams is known for his collaboration with many of blues' elite and continues to perform to date. Though he issued solo singles as early as 1961, it was only after his move to Los Angeles that he established a career as a sideman, and as a bandleader with the 1972 soul-blues classic It's Private Tonight, 1975's massively funky Home Brew, and 1977's sultry Midnight Serenade.
Adams was born on Christmas Day, 1943 in Medon, Tennessee. His earliest musical training was as a member of his local church's gospel choir. As a teen in the mid-'50s, he learned to play guitar from his mother; he copied her finger positions on both hands. His earliest inspirations included B.B. King (with whom he would later play), the Dixie Hummingbirds' Howard Carroll, Muddy Waters, and Elmore James.
He formed his first band, the Gospel Travelers, with his cousins and toured their home state and neighboring Arkansas until he went to Tennessee State University to study music. During his tenure there he played in the school's resident jazz and blues band and later held down the stage with his own group at The Baron Club. In late 1957, he was hired by R&B singer Gene Allison as a backing vocalist. He appeared on the charting single "You Can Make It If You Try."
During a 1959 tour, Allison left his band stranded in Dallas. Adams decided to stay and began working the local blues and R&B clubs. He backed traveling musicians including Lowell Fulsom, Chuck Berry, James, and Houston's Lightnin' Hopkins. In 1961, he released the solo single "If It Ain't One Thing It's Another"/"Willin' to Die" on Jamie Records, "I Had a Dream" on Dutchess, and "The Same Thing"/"Tend to Your Business" on the Valdot label. He also sang backup and played guitar in the studio with Sam Cooke.
In 1964, Adams moved to Los Angeles and got work as a session player for Vee-Jay Records. He worked constantly, playing sessions for Quincy Jones and Hugh Masekela (on Chisa), and on Kent Records' sessions for the Bihari Brothers. He also established himself as both a go-to live sideman and a headliner in clubs. His studio career led to him playing on movie and TV soundtracks as well as commercials. Some of the sessions he played on included those of Lou Rawls (with David Axelrod producing) and Bobby Bryant. He cut a cover of the Carter Family's "Wildwood Flower" b/w the original "Beetle Bust Out" for the local Jetstar Records. He also got work at Modern producing blues and soul singles. With Edna Wright he recorded the duet "Let's Get Together" as Arthur & Mary. Bobby Womack had been an early friend in L.A, and he recommended Adams for the house band on The Rosey Grier Show (the multi-talented Grier was a former defensive tackle in the NFL and a fine singer). Given his fine reputation for being on time, a quick study, and consummate professional on the clock, Adams had an abundance of studio work; he played on recordings by the Jackson 5, Henry Mancini, Willie Hutch, Nancy Wilson, Kim Weston, and many more.
In 1967, Adams made a cameo appearance in the made-for-television movie The Outsider, playing the song "She Drives Me Out of My Mind" later released on Modern. The same year he led Fulsom's studio band for the single "Push Me"/"Tomorrow" on Kent.
In 1968, Adams was hired as a guitarist in the South Central Avenue Municipal Blues Band, a cast of elite players who recorded The Soul of Bonnie and Clyde. It included drummer Paul Humphrey, trumpeter Bobby Bryant, saxophonist Clifford Solomon, and Crusaders' trombonist Wayne Henderson and pianist Joe Sample. Henderson became a close friend and collaborator. He introduced Adams to pianist/arranger Monk Higgins, who hired him for the classic Extra Soul Perception the same year. Adams was also hired by Bob Thiele as a guitarist on 1969's eponymous (and only) album by the Revolutionary Blues Band (saxophonist Tom Scott was also a member) and the Plaster Caster Blues Band (with Solomon and Bryant). Over the next six years, Adams played on a wealth of recordings including Masekela and Reconstruction by the South African musician, Bryant's Swahili Strut, Jones' Smackwater Jack, the self-titled debut from Letta Mbulu, Charles Kynard's Woga, Hampton Hawes' Universe, Axelrod's The Auction, and several titles by the Crusaders.
In 1972, Adams released It's Private Tonight, his solo debut on Blue Thumb. Its studio cast included Humphrey, Sample, Wilton Felder, Ernie Watts, Phil Upchurch (whose 1972 classic Darkness, Darkness he had played on), Clydie King, and Vanetta Field. Following a tour, Adams returned to backing soul and jazz performers, especially the Crusaders, whose albums he regularly contributed to. He also assisted in the recording sessions that netted Grateful Dead guitarist Jerry Garcia's sophomore solo album Garcia.
In 1975, Adams played on Al Jarreau's debut We Got By (as well as on the following year's Glow) and released Home Brew, his own sophomore effort. It was produced by Henderson and featured Sample, Ronnie Laws, and the Funk Brothers' guitarist Dennis Coffey and bassist James Jamerson. The set won wide critical acclaim from American, Japanese, and European critics. Following a tour, he reentered the studio with Henderson and another elite cast (that included pianist/keyboardist Bobby Lyle) and arranged all the cuts on 1977's Midnight Serenade for Fantasy. He subsequently recorded 1979's I Love Love Love My Lady with producer Stewart Levine. Among its contributors were Neil Larson, Harvey Mason, and the Seawind Horns. The single "You Give Me Such Good Feelin" featured Adams on vocals and earned some attention from soul fans internationally. Though Adams would continue to write, produce, do session work, and tour, he didn't release another album under his own name for 20 years.
He appeared on the Crusaders' funky disco smash Street Life in 1979, and over the next decade worked on albums by Felder, Axelrod, Marlena Shaw, Larry Graham, Nina Simone (whose road band he also joined), and Bonnie Raitt (contributing to the multi-platinum Nick of Time).
By 1987 Adams had formed a blues band to play clubs and was writing songs for other performers. Among them were "Mean and Evil" and "Something Up My Sleeve." B.B. King caught his band from the front row of The Mint Club and loved them. He and Adams became fast friends, and King hired him to appear on 1991's There Is Always One More Time and cut both of those songs. In 1994, he became the bandleader at King's Los Angeles club (and remained there for decades — his drummer was James Gadson. In 1997, Adams covered Ann Peebles' brooding soul classic "I Can't Stand the Rain" for the soundtrack to the movie "Town & Country." Two years later, he released his own Back on Track for Blind Pig. Self-produced using his own band, he wrote or co-wrote eight of the set's 11 tracks, and enlisted King to sing with him on "Get You Next to Me" and "The Long Haul," both co-written with Will Jennings. Following an international tour that took him as far as the Netherlands, Adams resumed his studio activity and assisted on recordings by the Crusaders (Rural Renewal), Masekela (Still Grazing), and Simply Red (Home).
In 2001, Adams and Jennings contributed and co-produced "Get You Next to Me," for Here and There: The Uncollected B.B. King. In 2004, he issued his own Soul of the Blues, also co-written and co-produced by the pair. Following a tour, he returned to playing King's club in Los Angeles. Adams returned to the scene with Stomp the Floor for Delta Groove Music in 2009. He produced the set and wrote or co-wrote all 12 songs. His sidemen included Gadson, bassist Reggie McBride, keyboardist/arranger Hence Powell, and a horn section composed of saxophonist David Woodford, trumpeter Lee Thornberg, and trombonist Garrett Adkins.
In 2009, he joined the Mannish Boys, Delta Groove Music's house band, as lead guitarist and vocalist. They issued Shake for Me in 2010. In 2012, Adams released the EP Feet Back in the Door (produced by Keb Mo') and played alongside zydeco accordion master C.J. Chenier and guitarist Ray Parker, Jr. on Sample's fine, if underrated Creole Joe Band. Spending the majority of his time playing clubs, Adams returned to recording for Cleopatra with 2019's Here to Make You Feel Good with bassist Freddie Washington, Gadson, and Powell, and session players who included Thornberg, McBride, and Bruce Fowler.
Following the COVID-19 pandemic in 2020, Adams and his band found club stages to play on. In February 2023, Adams released Kick Up Some Dust, a scorching, self-composed and produced soul-blues date, just in time for his 80th birthday. The recording also featured his working quartet — Powell, Washington, Gadson — with old friends the Waters Sisters on backing vocals.