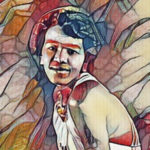 Sena Fletcher is a vocalist who recorded some now-classic soul/funk singles under the name Mary Jane Hooper. Her backstory has been enigmatic at best and her career was short-lived, yet she continues to be a renowned singer in the rich tapestry of Crescent City soul history.
Fletcher, who had already honed her singing skills during her years in the Baptist church, approached Allen Toussaint with aspirations of entering the music industry when she was just a teenager in the mid-1960s. Toussaint, upon auditioning her, swiftly recognized her exceptional vocal talent. He enlisted her to join a vocal trio named the Triple Souls, whose primary role was to provide backing vocals on recording sessions for various artists. This included the prolific Lee Dorsey, whom they also accompanied on tour. Despite gaining valuable studio experience, Fletcher repeatedly expressed her desire to make her own record to Toussaint. However, he consistently asserted that she wasn't quite ready for such a venture.
During this time, Eddie Bo was actively engaged in artist and repertoire (A&R) work for Scram Records, owned by Al Scramuzzza, a prominent New Orleans seafood merchant. Bo took on a multitude of roles at Scram, including talent scouting, artist development, production, songwriting, arranging, keyboard playing, and even recording under an alias at least once. Fletcher soon became one of Eddie's emerging artists in development for Scram and its affiliated labels, and he collaborated closely with her to assemble a collection of tracks around 1967.
During her relatively brief career, Mary Jane Hooper released three records on the Scram subsidiary labels, Power and Power-Pac, as well as a single that was issued on the World Pacific label .Her initial record, "Harper Valley PTA" / "That's How Strong Love Is," was released on Power 2051. Yes, it's a cover of Jeannie C. Reilly's "Harper Valley PTA," a country hit penned by Tom T. Hall, but Hooper's version featured an up-tempo, funky arrangement by Bo—a somewhat unconventional choice for a young soul singer, though it remains one of her more noteworthy works. Her third release is also exceedingly scarce, a potent two-part funk track titled "I've Got What You Need," which appeared on Power-Pac 2055 and had a very limited distribution. Scramuzzza did release these 45s to some extent locally, but they received minimal promotion, as his primary objective was to negotiate Hooper's transition to a larger record label. He was in discussions with Jerry Wexler of Atlantic Records about licensing her material or acquiring her contract. The track that truly piqued Wexler's interest was "Teach Me," found on Hooper's second single. However, he was not satisfied with the production quality and sought to rework the song and several others in New York. In the end, Atlantic and Scramuzzza failed to reach an agreement, with Scramuzzza demanding too much for Hooper's contract. Consequently, Wexler withdrew from the arrangement, advising Mary Jane to reach out when she was free from her contractual obligations with Scram.
Hooper's second single, featuring "I've Got Reasons" and "Teach Me," had three distinct releases, emerging under the labels Power 2053, Power-Pac 2053, and Power AR-105-4051/4052, all around the year 1968. Despite these multiple attempts, the single failed to achieve substantial commercial success, likely owing to the fact that Al Scramuzzza, instead of vigorously pursuing airplay and cultivating a strong demand for Hooper's records, focused on navigating the business aspects of her career. Such an approach might have enticed larger record labels like Atlantic to invest in her talents. Interestingly, though the label credits suggest otherwise, both sides of this single were produced, arranged, and penned by Eddie Bo. The inclusion of Scramuzzza as a producer and co-writer was essentially a strategic move to secure a share of potential royalties.
When you listen to "Teach Me," it's evident why Wexler saw potential in Hooper. While tackling the intricate structural changes of this substantial ballad, her voice, though still lacking in maturity, displayed the essence of a promising singer. Fletcher's delivery revealed dynamic range, skillful phrasing, and her ability to effortlessly handle the elements of the arrangement.
Fletcher/Hooper recalled to Scott Jordan that some of the session players included accomplished individuals like Smokey Johnson and James Black on drums, George Davis on bass, Walter 'Wolfman' Washington on guitar, Fred Kemp on sax, and, of course, Bo himself on keyboards. While it's likely that some of these skilled musicians contributed to these recordings, it's less probable that George Davis was responsible for the rather pedestrian bass lines, given his more refined capabilities. Nevertheless, the Mary Jane Hooper sessions, regardless of the specific musicians involved, often possessed an unfinished, demo-like quality rather than sounding like polished final products. As is the case with many producers tasked with managing sessions on a tight budget, Bo had to make the best of what was readily available and work with it as efficiently as possible.
In addition to his efforts to secure a deal with Atlantic Records for Hooper, Al Scramuzza explored other label options to promote her music. The sole label that responded and subsequently released a single by her was World Pacific, headquartered in Hollywood, California. World Pacific had a strong jazz catalog throughout the 1960s and gradually expanded into pop music later in the decade. In 1968, the label reissued Hooper's "That's How Strong Love Is" as the A-side, a catchy soul track with gospel influences, originally written by Eddie Bo and featured on her initial solo single for Power. Curiously, the stronger and somewhat novelty-driven "Harper Valley PTA" was omitted in favor of "I Feel A Hurt." Subsequently, they opted not to release any further material by her.
Despite Hooper's heartfelt rendition of "That's How Strong Love Is," with Bo joining her on the choruses, it didn't align with World Pacific's musical portfolio at the time. The pairing was not harmonious, even though James Black composed the trippy show tune "Psychedelphia" for Hooper, which might have allowed her to better blend with the California music scene had she received another opportunity with the label. It seems that Scramuzza's talents were better suited to selling fish than securing record deals. His most significant success came with Bo's 1969 funk hit, "Hook and Sling," which independently reached the national Top Ten and was subsequently picked up by Scepter Records, providing at least one substantial payday to offset some of his losses. When Bo couldn't replicate this success with a follow-up hit, Scramuzza shuttered his label operations around 1971 and returned to his seafood business.
Disheartened by her limited progress in the music industry, Sena Fletcher chose to step away from her career. She never collaborated with Bo again, despite his persistent efforts to produce records, primarily on his own small labels. Regrettably, she also never reached out to Jerry Wexler to inquire about his continued interest. Apart from a brief stint performing with a local rock band a few years later and some unreleased recordings with Willie Tee, her music career came to an end. Many of her finest studio performances from the sessions with Bo, such as "Don't Change Nothin'," "Remember When," "I'm In A Loving Groove," and even "Psychedelphia," remained unpressed and unheard until their CD release some 30 years later.