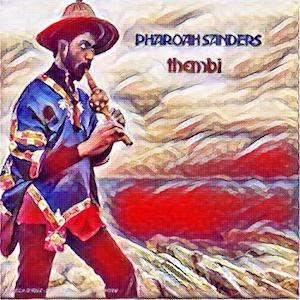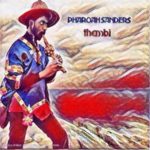 On this episode of Sounds Visual spinoff series How Deep Is Your Crate, contributor DJ Sesqui talks about the impact that Pharoah Sanders' 1971 spiritual jazz masterpiece Thembi had, and continues to have, on him.
Thembi, named after Sanders' son and compiled from two sets of sessions, captures the tenor saxophonist at his hyper-eclectic peak. Not only did the tenor player pick up alto and soprano horns, but other oddities like cow horns, fifes and a small African thumb piano called the bailophone. Not only this, co-producers Michel and Szymczyk revolutionarily made something more indebted to Sgt. Pepper than "So What?". Their mixes teem with psychedelic, trippy effects — echo, reverb and phasing. It all reflected Sanders' legendarily "outer limits" state of mind.
While its experimental sound naturally divided critics and fans, time has been good to this unusual LP. In a retrospective review in 2011, All About Jazz called it "unalloyed bliss from start to finish, a sweet and lyrical evocation of Eastern mysticism." Revive Music noted its "use of dozens of instruments, including the sounds of birds and the yelping voices of humans," concluding "Thembi is a testament to the fact that timeless classics are never attributed singularly to technique, but are instead conceived of strong directional intent, a will, and love."
Thembi is both East and West Coast jazz — Side A and Side B were recorded by two different ensembles in LA and New York, yet it isn't a disjointed compilatory album. Instead, the love and light of Thembi creates a complete feeling, from the percolating "Astral Travelling" to the clattering "Bailophone Dance."
Sanders passed away on September 24, 2022.
Follow DJ Sesqui here.