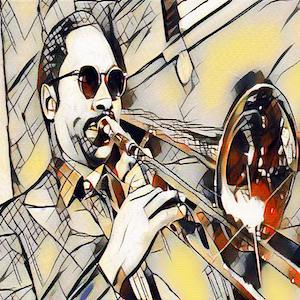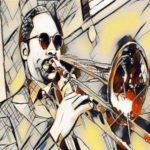 Trombonist Julian Priester has built a career on versatility, starting out by backing blues artists like Bo Diddley and Muddy Waters, then playing with some of jazz's most well-respected innovators, including Sun Ra, Max Roach, and Herbie Hancock, as well as contributing to the more straight-ahead ensembles of Lionel Hampton and Duke Ellington. In addition, Priester has worked as a studio musician for the Blue Note and Riverside labels, also working in the shipping department at Riverside. He has played in pit orchestras on Broadway and at Radio City Music Hall and, in the 1980s, he accepted a teaching post at Cornish School of Music in Seattle. Priester underwent a liver transplant in 2000, but has released two albums as a bandleader since the surgery. He also continues to perform regularly.
Priester was born in Chicago on June 29, 1935. He studied both piano and violin as a child. Hoping to follow in the footsteps of an older brother, who played trumpet in the U.S. military, Priester aimed to play that instrument in his school band. Since the band already had its fill of trumpeters, Priester's instructor moved him to baritone horn and then trombone. At DuSable High School, he studied with Capt. Walter Dyett, who tutored a number of jazz greats, including pianist Dorothy Donegan, saxophonists Gene Ammons and Johnny Griffin, and vocalists Nat "King" Cole and Joe Williams. "The things I learned in that class I was able to apply much later on in my career when I actually had to play shows, I wasn't spooked by the fast pace," Priester told Mack Crooks in an interview for Cadence. "I'm really indebted to that one particular teacher."
Priester launched his professional career backing some of Chicago's biggest blues musicians, including Muddy Waters and Bo Diddly, while he was still in high school. In the mid-1950s he joined the ensemble of Sun Ra, the visionary pianist, keyboardist, and composer, and received an introduction to improvisation and nontraditional arrangements. "Sun Ra was an enigma for me. … he would write something out, it would only be a sketch of what he really wants and then he would go through a process of changing that original idea around, so that by the third or fourth rehearsal there was nothing familiar on that paper," Priester told Cadence. "Everything was committed to memory and it started to grow from that and he would still add ideas to what he was directing everyday. Sun Ra was a genius at it, he sort of directed us and kept us in the dark at the same time."
Sun Ra, however, proved to be less adept as a businessperson than as a musician, and Priester, recently married and seeking a steady paycheck, left the band in 1956 to tour with vibraphonist Lionel Hampton. He was recommended for the job by a classmate from DuSable. Priester remained with Hampton through the spring of 1957. At that time, Hampton was setting off for an Australian tour with trumpeter Stan Kenton and, to cut costs, the two decided to take only half of each of their bands. As one of the youngest members of Hampton's ensemble, Priester did not make the cut. He joined vocalist Dinah Washington's band, and in 1958 moved to New York City where the singer was based. There he freelanced and worked in the shipping department of the Riverside record label, alongside such jazz legends as drummer Philly Jo Jones and trumpeter Chet Baker. Priester also recorded with numerous Riverside artists, including Jones and fellow drummer Max Roach, saxophonist Johnny Griffin, and trumpeter Blue Mitchell. As a result of Priester's sessions at Riverside, Roach asked the trombonist to join his ensemble. "[I] had this gnawing feeling that I wanted to do something for the trombone because I felt it was being pushed to the side," Priester told Cadence. "I thought playing with a small group like [Max Roach's] and having the opportunity to be out front with all the solo space … was a good thing." In 1960 Priester released his first two LPs as a bandleader: Keep Swingin' on Riverside and Spiritsville on the Jazzland label.
In 1961 Priester, now divorced and remarried, left Roach, opting again for the financial stability of studio work. He also played in a pit orchestra for the musical Promises, Promises on Broadway and served as a substitute in the pit orchestra at Radio City Music Hall. He recorded with several big-name artists on albums for the legendary Blue Note label during this time, including trumpeter Freddie Hubbard, saxophonists Stanley Turrentine and Joe Henderson, drummer Art Blakey, and pianist McCoy Tyner. While most of these recordings were in the straight-ahead vein, Priester also indulged his experimental side, collaborating with saxophonist Sam Rivers and playing in saxophonist John Coltrane's Africa/Brass ensemble. In 1969 he joined Duke Ellington's orchestra. He planned to tour with the band for three weeks but stayed for half a year, later recalling in Cadence that the experience proved highly educational. "Those six or seven months I think I learned more about music than all the 10 or 15 years before that," he stated. Priester was unable to accompany the band on its European tour, however, because he lost his passport, so he struck out on his own again the next year.
He began improvising regularly with a group of avant-garde musicians and poets, then answered a call to join Herbie Hancock's lauded experimental outfit in late 1970. While with Hancock he took on the Swahili name Pepo Mtoto. "It was another situation that was supposed to be a temporary tour and I fell in love with the band because they were sort of extending, at least partially, some ideas I was developing with the poetry," Priester told Cadence. "They didn't have poetry or anything, but musically they had the same loose format, so I stayed on with Herbie." Hancock disbanded the ensemble in 1973, and Priester moved to San Francisco. In 1974 he recorded Love, Love for ECM, followed by Polarization in 1977, which Melody Maker's Richard Wiliams called "one of the most remarkable jazz albums of the year so far."
Priester moved to Seattle in the early 1980s, accepting a faculty position at the Cornish School of Music. He also continued to work as a freelance musician, playing regularly with bassist Dave Holland and reuniting with Sun Ra for his big band project. He did not release another solo LP until 1997, when Hints on Light and Shadow came out on the Postcards label. Priester underwent a liver transplant in 2000, and Hancock, Rivers, and other musicians honored him the following year with a tribute concert in San Francisco. That same year, Priester released the solo album Out of This World on Milestone, followed by In Deep End Dance, a play on the word independence, on the Conduit label in 2002. In an interview with Paul de Barros of the Seattle Times, Priester remarked that he has continued to use the wealth of knowledge he has accumulated over five decades. "As I progress artistically I don't discard the old ideas," he explained. "I don't believe one should replace the other. They're all valid."