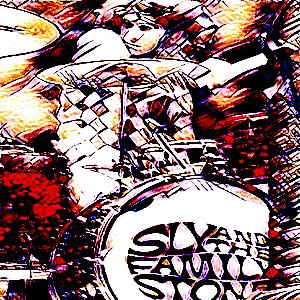 Greg Errico is a musician and record producer, best known as the drummer for the popular and influential psychedelic soul/funk band Sly and the Family Stone. Errico's punchy, insistent grooves, became the backbone of the Family Stone's sound, and, along with bassist Larry Graham, comprised one of the great rhythm sections of that era. His drums on tracks like "Sing A Simple Song," "You Can Make It If You Try," and "Trip to Your Heart" have all been sampled countless times.
Errico was born and grew up in San Francisco, California. As a member of Sly and the Family Stone, Errico appeared on the band's classic albums, played at the iconic Woodstock festival in 1969, and was inducted into the Rock and Roll Hall of Fame in 1993. In 1971, he became the first member to quit the group, citing the band's continuing turmoil.
He then toured with jazz-fusion group Weather Report in 1973-74, and joined the David Bowie band for his Diamond Dogs tour of the US during September 1974. Errico later collaborated with bands such as Santana, on Carlos Santana and Buddy Miles Live, and with the Grateful Dead. In 1974, he began drumming for the Jerry Garcia Band on and off through 1984. He also worked with Larry Graham plus members of the Tower of Power horns, Journey, and the Pointer Sisters on the debut album of funk singer Betty Davis.
Errico still lives in the Bay Area, and continues to play drums and produce music. He's also the cohost of a podcast called StickPeople.