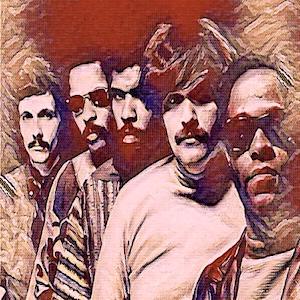 Stark Reality was a Boston-based jazz-rock band which recorded the funky, jazzy, fuzz-toned cult classic 1970 album Discovers Hoagy Carmichael's Music Shop–a heavily-improvised reinvention of a 1958 children's album by songwriter Hoagy Carmichael–to be used for the show "Hoagy Carmichael's Music Shop" which aired on PBS.
The Stark Reality Discovers Hoagy Carmichael's Music Shop spotlights Stark Reality's uncanny ability to capture both the loss of innocence and the dawning of the Age of Aquarius, taking the wide-eyed imagination of Carmichael's lyrics and transforming the songs into hazy, hot-wired evocation. The result is a record–a children's record, no less!–that is completely singular.
Originally released on Ahmad Jamal's boutique label, AJP Records, the album made the rounds in underground hip-hop circles for years (being sampled along the way by the likes of Large Professor, J-Live, Madlib, and Black Eyed Peas), and trading hands for ridiculous sums on the second-hand market. In another sign of the album's lasting resonance, it was voted #1 on the crate-digging website Soul Strut's "Top 200" list, honoring LP's that are "not [necessarily] considered the best records, but rather the most talked about and influential."
The band consisted of: Monty Stark, vibraphone; Carl Atkins, saxophone; John Abercrombie, guitar; Phil Morrison, bass; and Vinnie Johnson, drums.