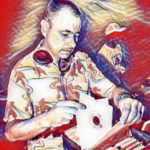 DJ Andy Smith was the first DJ to release a multi-genre mix album on a major label. His seminal mix-CD "The Document" hit the streets back in 1998 and became the soundtrack for a generation who'd heard hip-hop samples, but needed to hear more – The Document filled the void.
Andy's appreciation of different genres made him the ideal person to provide samples for the first two albums by Portishead. He went on to make his name as their international tour DJ – reflecting their respect for both digging and hip-hop scratch DJing.
Andy was included in the Top 20 Greatest DJs of all time by Music Radar.
He continues to curate and release widely acclaimed mixes and remains an in-demand DJ worldwide.