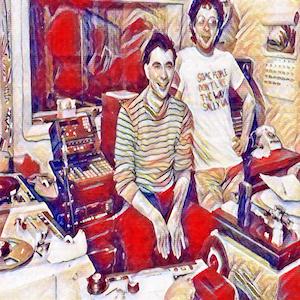 Double Dee and Steinski is a duo of hip hop producers, composed of Doug "Double Dee" DiFranco and Steven "Steinski" Stein. They achieved notoriety in the early 1980s for a series of underground hip-hop sample-based collages known as the "Lessons" that became DJ landmarks and some of the most valued bootlegs in rap history.
In 1983, Tommy Boy Records held a promotional contest, in which entrants were asked to remix the single "Play That Beat, Mr. D.J." by G.L.O.B.E. and Whiz Kid. Their contest entry, "Lesson 1 – The Payoff Mix", was packed with sampled appropriations from other records—not only from early hip-hop records and from Funk and Disco records that were popular with hip-hop DJs, but with short snippets of older songs, along with vocal samples from sources as diverse as instructional tap-dancing records and Humphrey Bogart films. The jury, which included Afrika Bambaataa, Shep Pettibone, and "Jellybean" Benitez awarded "Lesson 1" the first prize.

DiFranco and Stein followed up this success with the track "Lesson 2 — The James Brown Mix" in 1984, before quickly running through a montage of memorable breaks from classic James Brown records, as well as various other samples. In 1985, the track "Lesson 3 — The History of Hip-Hop Mix", attempted a survey of the great breakdancing favorites Later in 1985, the group's first album, Lessons 1-3, was released, containing all three "Lessons".

Although they never had a hit record, their production aesthetic proved highly influential for subsequent artists such as Coldcut, DJ Shadow, De La Soul, Cut Chemist, the Avalanches, and Girl Talk.