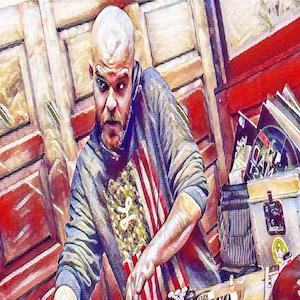 Michael Buchanan, better known as House Shoes, is a Detroit-born hip hop producer and DJ, who lives and works in Los Angeles, California. He served as a producer on albums by Proof, Elzhi, Pumpkinhead, Marv Won, J Dilla, Danny Brown, and Quelle Chris among others. He is a three-time Detroit Music Awards winner for Outstanding Hip-Hop DJ (from 2005 to 2007).
As an artist, House Shoes isn't concerned with popularity. Unfailingly outspoken, he's been known to condemn and exalt music with equal vigor. If he hates your record, expect soul-atomizing honesty. If he loves it, he'll play it endlessly.
Since moving to Los Angeles in 2006, he's become a fixture in the city's perennially vibrant music scene, releasing his own music (2012's "Let it Go", 2019's "Big Shoes" w/Big Tone), DJing in over 40 countries and hosting a sometimes-weekly radio show, Magic.
Since 2013, he's released over 70 projects from upcoming producers and artists to multi-platinum producers through his record label, Street Corner Music.
With an ear for beats that deconstruct rote boom-bap templates and defy the limits of sample-based sounds, he's shaping the future of the music he's devoted his life to promoting and protecting.