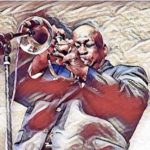 The Midnight Movers are a powerhouse of authentic soul and Motown sounds, led by the dynamic trumpeter and vocalist Curtis Pope.
There are arguably no continuously working groups more intertwined with American soul music. Like the "Funk Brothers" – the collective of musicians who played on all the recording sessions at Motown Records, the Midnight Movers made their mark behind the scenes, backing up, touring with, producing, and arranging many of the genre's most famous artists. You've heard the famous wah pedal guitar work of original member Charles "Skip" Pitts on Isaac Hayes' "Theme to Shaft," as well as Curtis Pope's signature horn lines on the Isley Brothers crossover hit, "It's Your Thing." The band produced legendary Stax vocal duo, Sam & Dave, and its members have recorded with countless groups in all the major centers of American Soul music–Detroit, New York, Memphis, and Muscle Shoals–receiving national acceptance in an era marked by distinct regional sounds.
The band is perhaps most famous, however, for its decades-long collaboration with "Wicked" Wilson Pickett. It was on the road with Pickett that the band perfected its compelling stage show with high-stepping choreography, seamless medleys, and playful approach to performance. Wilson Pickett's famous song, "I'm a Midnight Mover" was the inspiration for the band's name–a name under which the band released two full-length records of their own–'Follow the Wind' (1974) and 'Do it in the Road' (1970). "Wilson Pickett and the Midnight Movers" performed all over the world until 1997, when the Movers struck out on their own. Since then, the Movers have continued to hone their reputation as one of the best live soul bands in the world.