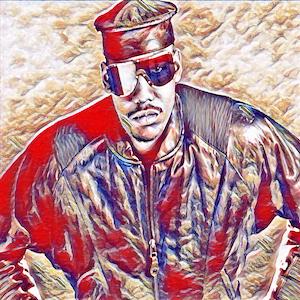 Hip Hop Pioneer Kool Moe Dee was born Mohandas DeWese on August 8, 1963, in New York City. His early music career began at Norman Thomas High School in the late 1970s. Having grown up in Manhattan, DeWese was an early favorite at block parties in Harlem performing with high school buddies L.A. Sunshine and Special K plus DJ Easy as the Treacherous Three. After receiving his high school diploma, he attended the State University of New York at Old Westbury and graduated with his B.A. degree in communications.
In 1978, The Treacherous Three was officially formed. An introduction to Bobby Robinson by Spoonie G led to the Treacherous Three's debut on wax in 1980 with "The New Language of Rap." The single was released on Robinson's Enjoy Records. In 1981, two more singles followed, "Body Rock" and "Feel the Heartbeat" before the group's contract was sold to Sugar Hill Records. The Treacherous Three split up in the mid-1980s after recording several singles for Sugar Hill Records.
For his solo debut, DeWese enlisted an unknown producer, seventeen-year-old Teddy Riley. "Go See the Doctor" followed and became an underground hit. By 1986, Kool Moe Dee was signed to Jive Records, and his self-titled debut album appeared that same year. In 1987, with an album entitled, How Ya Like Me Now, DeWese went platinum and was followed in 1989 by the gold certified Knowledge Is King, for which he became the first rapper to perform at the Grammy Awards ceremonies. Also in 1989, DeWese worked on several important projects including the single "Self-Destruction," and Quincy Jones' all-star Back on the Block album, which united Hip Hop stars with their musical forebears. After moving to Los Angeles, DeWese appeared in several movies and television shows.
His fast and aggressive rap style influenced following rap figures such as Big Daddy Kane, Beastie Boys, KRS-One, Rakim, Will Smith, N.W.A, Tupac Shakur, Nas, Jay-Z, among others.