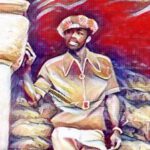 Eddy Senay is a guitarist who released two great, highly sought-after rare groove albums for Sussex Records in the early 1970s, Hot Thang and Step By Step. Both albums are full of deeply soulful, imaginative, melodic jazz-funk instrumentals, and while Eddy never quite became a household name, both his story and his music are well worth hearing.
Eddy was born in Lanett Alabama, and raised by his grandmother. Eddy's father was friends with Otis Redding, and his early influences included Little Richard–who happened to live just down the street– and Sam Cooke, whom Eddy got to witness practicing on Saturday mornings. At age 6, he made his own guitar from a cigar box, fish string, small nails, and a piece of 2X2 wood.
When he was 14, Eddy's life took a fateful turn when he relocated to Detroit. At Northern High School, his classmates included Melvin Franklin of the Temptations and Kenneth "Spider Webb" Rice, who became a drummer for Harry Belafonte. By age 28, Senay had scored a recording contract with L.A.-based Sussex Records and recorded his debut, Hot Thang, in 1972. The album featured soulful, uniquely-styled instrumentals and impossibly-funky workouts. A guitar-led celebration of groove, Hot Thang included the oft-covered/sampled "Zambezi," and a wonderfully soulful read of "Ain't No Sunshine." His follow up, Step by Step, was another raw, fuzz-laden set of psychedelic guitar-powered funk. Blaxploitation cinematics abounded in these sounds, which intoxicatingly fused fire with finesse. While neither of these albums were widely heard in their day, new generations of jazz and funk fans have discovered his music online and through vinyl reissues.
He continues to write, record, and perform music to this day. You can support Eddy via his Bandcamp page.