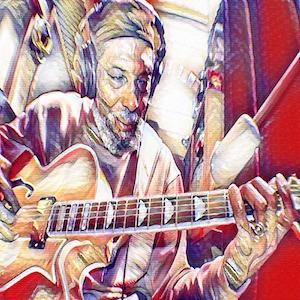 Jazz guitarist Calvin Keys is a legend among soul-jazz fans for his appearances as a session and touring musician and a catalog of releases under his own name. His 1971 Black Jazz debut, Shawn-Neeq, and his sophomore outing for the label, 1974's Proceed with Caution, are both considered jazz-funk classics. Keys' playing style is lean and muscular. His unique phrasing balances sophisticated jazz harmonics with funky R&B and soul grooves. Since the 1960s, Keys has worked as a session and touring player with Ahmad Jamal and others.
Keys was born in 1942 in Omaha, Nebraska. His first musical influence was his father Otis, a well-known drummer on the city's music scene. He passed the music bug on to Calvin, who picked up the guitar early. Keys eventually landed gigs playing with Eddie "Cleanhead" Vinson, Preston Love, and, later, the Frank Edwards Organ Trio. After woodshedding with Edwards, he landed a spot in organist Jimmy Smith's road trio. After leaving Smith, Keys worked the rest of the '60s with Jimmy McGriff, Jack McDuff, and Richard "Groove" Holmes.
After moving to Los Angeles, he signed to Gene Russell's fledgling Black Jazz label and cut his debut album, the now-legendary Shawn-Neeq. He gigged on his own before auditioning, and landing, a spot in the Ray Charles Orchestra. Keys also did session work for the Black Jazz label, and played on Russell's Talk to My Lady and Doug Carn's seminal Adam's Apple. He toured in support of Proceed with Caution before relocating to San Francisco in 1975 and focusing on live and session work. He played on Billy Brooks' jazz-funk classic Windows of the Mind before joining Ahmad Jamal's group in late 1975. Keys spent close to a decade with the pianist, touring the globe and recording six albums, beginning with 1976's Recorded Live at Oil Can Harry's.
When not touring with Jamal, Keys worked in live settings and recording sessions with luminaries such as John Handy, Bobby Hutcherson, Eddie Marshall, Leon Williams, Bob Braye, Ed Kelly, Eddie Duran, Bruce Forman, Junius Simmons, and Eddie Moore. In 1976, he also played on Doug and Jean Carn's Ovation album Higher Ground. The 1980s proved similarly fruitful for Keys, amassing credits and touring alongside Tony Bennett, Pharoah Sanders, and Sonny Stitt. He was sidelined in 1997 by heart surgery, undergoing a quadruple bypass. Undaunted, he released the widely acclaimed Detours Into Unconscious Rhythms on Wide Hive Records. The large cast included organist Chester Thompson (Ray Charles, Santana) and upright bassist Kenneth Nash (from Jamal's band). After the album's release, Keys toured regionally in the U.S. and in Europe before returning to the Bay Area, where he performed with organists Big John Patton, Dr. Lonnie Smith, and Taj Mahal. In 2005, Keys recorded Calvinesque for Silverado. The album hit number 30 on the European jazz charts.
His second Wide Hive release, Vertical Clearance, was issued in 2006. It reunited Keys with Carn, and included Phil Ranelin, Sonny Fortune, Roger Glenn, and Babatunde in its lineup. In 2007 Keys released Hand-Made Portrait on Silverado, and received a tribute from fellow Midwesterner — and fan — Pat Metheny, who composed and included the tune "Calvin's Keys" on his album Day Trip. Keys appeared on Ranelin's Living a New Day for Wide Hive and on organist Gloria Coleman's Sweet Missy for Doodlin in 2009. In 2012 Tompkins Square Records re-released Shawn-Neeq exclusively on vinyl. Keys supported it by touring with a band, performing the album in its entirety. In 2018, Keys released the single "Nigerian Marketplace" with his own quartet, and the following year played on Marty Krystall's Liquid Krystal Displayed, with bassist Buell Neidlinger and drummer Peter Erskine. In 2021, Shawn-Neeq appeared again in Real Gone Music's ambitious Black Jazz catalog reissue program. (Bio courtesy allmusic.com)