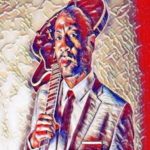 Binky Griptite is a guitarist, record producer, and radio DJ. He is best known as a founding member and guitarist of Sharon Jones & the Dap-Kings, Soul Providers, and Antibalas, among other Daptone Records-related projects. Starting in 2017, he hosted the weekly radio program The Boogie Down on WFUV.
Griptite was born and raised in Milwaukee, Wisconsin. He lived in Minneapolis before moving to New York City in 1996. Following a break in his music career he connected with musician Gabe Roth, who would co-found Daptone Records, and was recruited to play in Roth's Desco Records house band, the Soul Providers. Some of the first records he played on were those of Lee Fields.
In late 1997, he helped found the Brooklyn afrobeat ensemble Antibalas and played with them in their early years. Following the dissolution of Desco and the Soul Providers in 1999-2000, he formed The Dap-Kings with other former members as a band for Sharon Jones. They recorded their debut album "Dap Dippin' with Sharon Jones and the Dap-Kings" in 2001. In total, the group released seven studio albums, concluding with 2017's "Soul of a Woman." Their 2014 album "Give the People What They Want" was nominated for the Grammy Award for Best R&B Album.
Following a twenty year tenure, Griptite departed from The Dap-Kings in September 2018. In addition to playing with the Dap-Kings, Binky has played on records for artists such as Janet Jackson and Amy Winehouse, with whom he toured extensively in 2007. As a producer, he has worked with artists such as The Impressions. He also leads the R&B band The Mellomatics and The Binky Griptite Orchestra.
For further reading about the history of Daptone Records, check out "It Ain't Retro: Daptone Records and the 21st-Century Soul Revolution" by Jessica Lipsky. Order it here.