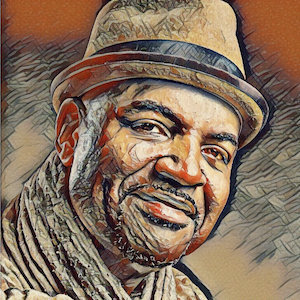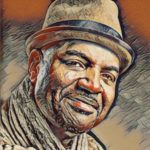 On this episode of Sounds Visual spinoff series How Deep Is Your Crate, guitarist Bobby Broom phoned in to talk about his newest album Keyed Up. This project centers on the compositions of some of jazz music's great pianist/composers, such as Bud Powell, Herbie Hancock, Chick Corea, McCoy Tyner, Horace Silver, Mulgrew Miller and others.
Bobby Broom was born in Harlem, New York, on January 18, 1961, and raised on Manhattan's Upper West Side. He began studying the guitar at age 12, concentrating on jazz under the aegis of Harlem-based guitar instructor Jimmy Carter. A 16-year-old prodigy at the High School of Music and Art (now known as the LaGuardia High School of Performing Arts), he played in the jazz ensemble and was awarded for Outstanding Jazz Improvisation during his senior year.
Chaperoned by Weldon Irvine (an early mentor of his, composer for Freddie Hubbard and Horace Silver, bandleader for Nina Simone, and lyricist of "To Be Young, Gifted and Black"), the 16-year-old Broom found himself in an East Side NYC jazz club for the purpose of being taught to sit in. That lesson became a reality for Broom when Al Haig, pianist for Charlie Parker, invited him to join in for a couple of tunes. Impressed by the youngster's playing, Haig offered him the chance to play with him at Gregory's on the Upper East Side whenever he wanted. Broom ended up playing two or three times a week there, and also got to play, with great awe, with another notable Bird keyboardist, Walter Bishop, Jr.
Broom was soon pursued by an even greater jazz legend, Sonny Rollins, whose guitarist at the time, Aurell Ray, saw Broom play in Irvine's musical, Young, Gifted and Broke, in Brooklyn, and arranged to have him meet Rollins. After playing with the tenor colossus at a rehearsal, Broom was asked to go on the road with him. Still in high school, Broom (and his parents) declined.
But later that year (in 1977), Rollins invited Broom to perform with him at a Carnegie Hall concert, initiating a long musical relationship between them. Four years later, Broom began a six-year stint as a member of Rollins's band, to which he would return in later years, appearing on Rollins albums including No Problem; Reel Life; Sonny, Please, and three volumes of the live Road Shows series. "Bobby is one of my favorite musicians," says Rollins. "He explains why I like the guitar. He's got a strong musical sixth sense. That makes a lot of explanations and directions unnecessary."
Broom's first two albums were Clean Sweep (1981) and Livin' for the Beat (1984), pre-smooth jazz efforts that transcended the limitations (and sometimes harsh criticism) of that category. In 1984, for personal reasons, he uprooted himself from New York and moved to the Windy City. There, while maintaining ties with New York groups including Kenny Burrell's Jazz Guitar Band, followed by a jaunt with Miles Davis's group, then enjoying a rewarding six-year stint with Dr. John ("For me, that was a lesson in the origins of rock and roll"), and hooking up with Windy City-based artists such as Charles Earland, Ron Blake, and Eric Alexander, he set out to establish himself as an important artist in his own right
"I had agents tell me that I wasn't a leader, to basically just accept the role of a sideman," says Broom. Determined to prove them wrong, he recorded two strong mainstream albums under his name for Criss Cross, No Hype Blues (1995,his last album to feature a pianist, perennially underrecognized Ron Perillo) and Waitin' and Waitin' (1997, with Ron Blake).
Beginning with Stand! (2001), he brought a serious improvisational jazz sensibility to pop classics such as Sly and the Family Stone's "Stand!," the Mamas and the Papas' "Monday, Monday," and Jimmy Webb's "Wichita Lineman." "I wanted to connect with a more mainstream, non-musician audience, without dumbing down my presentation," he says. Modern Man, a blowing session with Dr. Lonnie Smith and Ronnie Cuber released at around the same time, included inspired interpretations of Derek and the Dominos' "Layla" and Stevie Wonder's "Superstition."
On the live The Way I Play, a set of classic jazz standards from 2008, Broom documented his weekly gig with his trio at the now-legendary Pete Miller's steakhouse, which ran for more than a dozen years. He then spun his creative wheel again, and again, and again – first "connecting with my musical heritage" with Bobby Broom Plays for Monk, an acclaimed collection of songs by and associated with Thelonious Monk featuring "small gems of musical discovery" (Downbeat); then creating "an ode to where I'm from" on Upper West Side Story, his first collection of originals, and then returning to standards on the lovely My Shining Hour.
Parallel to Broom's achievements with his trio was his success with the collective Deep Blue Organ Trio, featuring organist Chris Foreman – who, along with Dr. John, put him back in touch with the blues roots of jazz that he feels he had neglected early in his career. "I kind of dismissed the blues after I became a 'jazz student,' thinking that it was somehow beneath jazz intellectually," he says. "I know now that the intellect can operate within different formats and that the vocabulary of the blues is as rich and deep as a person is willing to make it."
Before disbanding, the Deep Blue Organ Trio recorded four albums, going out in a big way in 2001 with the Stevie Wonder salute, Wonderful!. The success of that album got them an offer to open concerts for Steely Dan. Subsequently, Broom's own Bobby Broom Organi-Sation featuring organist Ben Paterson, which released Soul Fingers in 2018, toured with the beloved pop group.
Of all his achievements, Broom is prouder of none more than his appointment as Associate Professor of Jazz Guitar and Jazz Studies at Northern Illinois University. Awarded a B.A. in music from Columbia College and an M.A. in jazz pedagogy from Northwestern University, he has long been involved in music education, previously teaching at the University of Hartford's Hartt School of Music, DePaul University, Roosevelt University, and the American Conservatory of Music. He also has instructed music students in public high schools throughout Chicago as part of a jazz mentoring program sponsored by the Ravinia Festival Organization and has been an instructor and mentor with the Herbie Hancock Institute.
"Of the many revelations and memories that this recording brings to mind about my musical relationship with the piano," observes Broom, "none is clearer than the simpatico that can exist within it. As a jazz professor, I see questions about incompatibility often coming up. Young, impressionable students have seemingly been forewarned about an inherent difficulty that can exist between guitar and piano. So, I find myself reprogramming students by advising them to seek out positive recorded examples all throughout the jazz lexicon. I hope this record will help to support that cause."