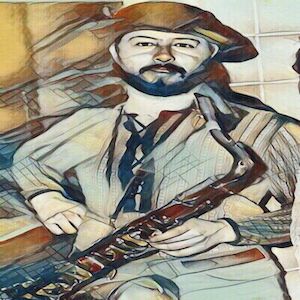 Emilio Castillo is a Detroit-born saxophonist and composer, best known as the founder of the R&B/funk band Tower of Power. An ever-changing, racially mixed aggregation of top instrumentalists and sly R&B vocalists, Tower of Power energized the West Coast soul scene and helped 1970s funk make its way into the commercial mainstream. At the heart of their sound is a horn section that showcases fat, catchy phrases against prominent bass and rhythm guitar lines. Unique too is their abundance of original material, written exclusively within the group, and their sophisticated, though uncluttered, arrangements. As a result, whether they play a live open-air festival, or a studio session for hire, their work is distinctive, passionate and a stone groove to behold.
In 1965, Emilio took to music after he and his brother Jack were caught stealing by his father who told him he could stay in his room until he thought of something to "keep him off the street." Castillo and his brother chose music: Emilio chose saxophone and Jack chose drums.
He took lessons in saxophone, piano, and guitar, and also took lessons in music theory from one-time Dave Brubeck bass player Norman Bates. His first musical endeavor was in Extension Five, which later became The Gotham City Crime Fighters due to the Batman craze at the time. At the time, Emilio played both organ and sax. The group also consisted of his brother Jack on drums, Jody Lopez on guitar Frank "Rocco' Houghton on bass (later going by the name of Francis Rocco Prestia), and Dave Genthner on vocals. In March 1966 they released the song "Who Stole The Batmobile."
After his family moved to California and Emilio saw a Bay Area soul band The Spyders, Castillo formed "The Motowns" playing soul music covers. After meeting baritone sax player Stephen "Doc" Kupka, Castillo switched, on Kupka's suggestion, to performing original material and the band changed its name to "Tower of Power." The band recorded their first album, East Bay Grease, in 1970. Castillo has been with the band ever since, as leader and 2nd tenor saxophonist. He and Kupka are also responsible for writing many of the band's best-known songs.