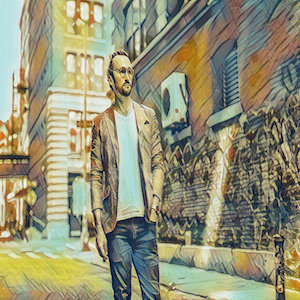 On this episode of the Sounds Visual spinoff series How Deep Is Your Crate, pianist/composer Dave Meder phoned in to talk about his newest album New American Hymnal, and shares some favorite LP's from his crates.
Pianist, composer, and educator Dave Meder is one of the prominent artists of his generation, known for a broad musical palette and interdisciplinary approach recognized in the Thelonious Monk International Jazz Piano Competition, the American Pianists Awards, and the Chamber Music America New Jazz Works commissioning program. Beyond the accolades, his defining aesthetic is a strikingly postmodern sense of stylistic adventure, incorporating what All About Jazz describes as "a vibrant hybrid of the whole American spectrum." His first album Passage was counted among the top five jazz debuts in the Ottawa Citizen and was included in the annual "Favorite Jazz Albums" list from All Music Guide, noted for its skillful balancing of "post-bop harmonies with soulful gospel warmth and contemporary classical sophistication." His recent release Unamuno Songs and Stories uses the works of Spanish Civil War-era philosopher Miguel de Unamuno to respond to sociopolitical turmoil in the United States. Meder has headlined stages or conducted educational residencies at Jazz at Lincoln Center, The Kennedy Center, as well as internationally in Beijing, Tokyo, Sao Paulo, and most recently Egypt as a US Fulbright Scholar. Dave is a Yamaha Artist and a professor at University of North Texas.
The idea of the hymnal resonates with Meder's background as a child who grew up playing piano in a Southern Baptist church. He was often brought to tears by the hymns, and they remain one of the most foundational aspects of his musical language. He says, "when doctrine failed to convince me, the music would sustain me in the faith for some portion of my life. In college, as a political science major, I became interested in the curious relationships between American religion and politics. My professional musical life, which moved me from the South to New York City and now back to Texas, has allowed me to be a part of diverse congregations that interpret the same text in strikingly different political and social directions."
In response, Meder's "hymns" tackle a variety of modern American themes. The folksy overture "modern gothic" is an fresh take on classic Americana (referencing the similarly named Norman Rockwell painting). Other works use the language of the church but deal in secular subjects. In "chant (our collective inaction)", Meder conveys his generation's anger at the lack of political mobilization on mitigating climate change. In contrast, "adoration (of all that is good)" is an ode to multiracial democracy and the progress made in racial reconciliation since the Civil Rights Era. Along the way, Meder uplifts and celebrates American figures, with a stunning setting of an Emily Dickinson poem (sung by up-and-coming avant-garde vocalist Isabel Crespo Pardo), and a reflective chorale incorporating audio from Robert F. Kennedy's famous 1968 speech following the assassination of Martin Luther King Jr.