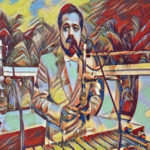 Percussionist, pianist, vibraphonist and two time Grammy Award winner Ricardo Marrero is a visionary artist who, for the past 40 years, has cultivated a fertile foundation for the growth of solo acts and the catapulting of careers.
One of the original members of Ruben Blades' legendary back up band, "Seis del Solar", Ricardo Marrero was the musical catalyst behind the contemporary soul of this Latin music mega star. Handpicking some of the members of the aggregate himself, Ricardo, along with Mike Vinas and Oscar Hernandez, arranged as well as directed this stellar group of excellent musicians.
Prior to his stint with Blades he fronted his own "Ricardo Marrero & The Group" where he gave rise to artists such as Latin jazz Grammy award winner David Valentin, and jazz/pop singer Angela Bofill, beginning a collaboration with both artists when David and Ricardo studied music at the former Music & Art High School in New York City. With "The Group" Ricardo was one of the first Latin/fusion bands to perform at the famous Ali-Frazier "Thriller in Manilla" music concert where they shared the bill with the Temptations.
As a composer/arranger, Ricardo's 1975 release of "Babalonia / My Friend" reached both mainstream and Latin music audiences while being nominated Best Disco Hit in 1976 by Latin NY Magazine. During this time, he produced a recording for Angel Canales and Cindy Rodriguez (daughter of legendary bolero vocalist, Tito Rodriguez). He also recorded for other artists such as the Five Stairsteps on the LP Second Resurrection on Darkhouse Records.
Signed to Don King Records before moving over to Fania Records during the early 70's, Ricardo released the recording Time to critical reviews. Considered one of the most dynamic and progressive bands to come into the Latin music industry, the recording was known for its eclectic musicality, mixing diverse genres of music onto a polyrhythmic groundwork.
Aside from travelling the globe with The Group, Ricardo played for Latino notables such as Herman Badillo and Geraldo Rivera. They have opened for such acts such as Stevie Wonder and Ricardo himself produced various recordings for the Fania Records Label.
Louie Ramirez asked Ricardo to join TR Records, after producing "Algo Nuevo" for Tito Rodriguez. After Tito's passing Ricardo and Tito Rodriguez, Jr. co-produced a couple of recordings for the label. Ricardo also worked with Latin Percussion Manufacturing, assisting in the design of "The Claw" with the help of Bruce Staples, who managed Electric Lady Studios and later Sound Mixers on 52nd and Broadway in New York City. Ricardo helped designed the "Super Quinto" for Carlos "Patato" Valdes. Additionally,he helped change the design of the old timbale stand to mirror the Yamaha cymbal stand and also designed the "Tapon" Cha Cha bell.
Ricardo also performed and traveled extensively in South and Central America area with Charanga 76. With this group, his keyboard skills are featured in the album Ocasiones.
On October 11th 1997, the sounds of Salsa were enjoyed on the four floors of Cleveland's Rock n' Roll Hall of Fame. The sounds of Puerto Rico's El Gran Combo attracted over 1,200 people to celebrate the 50th Anniversary of "The Puerto Rican Experiment" in Cleveland, Ohio. In addition to El Gran Combo's music, there was a Latin music exhibit coordinated by Ricardo and Max Salazar of past and present musicians, photos, album covers, instruments, memorabilia and enlarged articles published by Latin Beat Magazine – Max Salazar.
In 2009 Ricardo once again joined Ruben Blades and the "Seis De Solar" on the "Todos Vuelven" reunion tour visiting Puerto Rico, Peru, Mexico, Venezuela, Argentina and Colombia. For this tour, based on fan popular demand, Ricardo's arrangements included "Muevete" and "Buscando America" were performed throughout the tour dates.