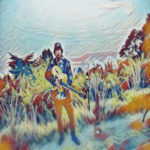 On this episode of the Sounds Visual Radio spinoff series How Deep Is Your Crate, guitarist/composer/ producer Ari Joshua phones in to talk about some of his new music, and shares some favorite LP's from his crates.
For years, shamanistic guitarist and composer Ari Joshua has been one of those "musician's musicians" who those "in the know" rave about but remains under the radar to the public. Struggles with substance abuse; a severe car accident; Ari's commitment to music education with the successful school he founded, The Music Factory; and the daunting task of mixing have kept him in something of a creative holding pattern.
Ari is finally opening his vault and sharing a catalog of recordings that feature his masterful musicianship alongside such revered instrumentalists as four-time Grammy-winning artist Robert Glasper, Marco Benevento, Joe Russo, Delvon Lamarr, Skerik, and members of the Trey Anastasio Band. These tracks will be issued in various configurations, and they document a spiritual journey of a prodigious talent all-consumed by his passion for music.
"Life and the Universe vibrates with songs, and when you play your instrument, you can tap into sacred frequencies. They can heal, bring people together, and they reveal ancient truths," the South African born, Seattle-raised guitarist reveals. "Music is my purpose; it's why I am here. It's taken me time working through pain and frustrations to pursue this calling, but I am ready to serve the music."
Ari is a jazz, rock, experimental, improv musician who wields an enlightened presence, boundless creativity, and visceral virtuosity. He earned a scholarship to the iconic New York City music school, The New School. Many talented musicians have gravitated towards Ari's sound. Rock N' Roll Hall of Famer Stone Gossard of Pearl Jam featured Ari on his solo album, and legendary Santana drummer Michael Shrieve asked Ari to be the lead guitarist of his band. Ari's rock band, Big High, attracted the talents of Mad Season and Screaming Trees drummer Barrett Martin, and REM guitarist Peter Buck.
He records and performs on a custom guitar handmade by Paul Languedoc, Trey Anastasio's guitar maker and Phish's longtime sound man. Hallmarks of his sensibility are his bell-like tone, lush and impressionistic chord voicings, and fiery improvisations that have a psychedelic sprawl, brimming with jazzy flights, bluesy passages, and fluid legato runs that seem to dance in the crevices of the grooves. "I just close my eyes, tune in, and the notes come from somewhere else. The music just pours out," Ari says.
On March 17th, 2021 his first vault recording, "Eyes Only," went live on all streaming services. It's Ari's collaboration with Robert Glasper, and organically it accrued over 37,000 spins, racking up 1,000-3,000 plays a day with no music biz machine behind it. This past May, Ari released the playfully evocative jazz tune, "Walmart Dinosaurs," which showcases him in a jazz setting with improvisations that feature intriguing flows of melody and dissonance as he colors inside and outside the tune's sophisticated harmony structure.
"The vault releases showcase the full expanse of Ari's talents. He slides into some retro-futuristic organ jazz on the "Say Whatcha Wanna Say," featuring Delvon Lamarr of the Delvon Lamarr Organ Trio on the organ, Polyrhythmics drummer Grant Schroff, and Skerik on saxophone. He eases from jazz into his South African roots on the invigorating track, "Old Pop (currently not released yet)," featuring African pop star Zolani Mahola singing, Kyle Shephard on keys, and some of South African's finest rounding out the ensemble. The lyrical composition, "Ray Of Light (currently not released yet)," is a tribute to his living grandmother 'Rae' and features members of The Trey Anastasio Band and Soul Monde, including Ray Paczkowski on keys and Russ Lawton on drums. Ari was invited to play with the duo after their stunning run of appearances during the covid 19 pandemic at The Beacon Jams. The chemistry will be evident to fans as the 27 songs captured in a week or so are released.
There is a mystique to Ari's South African roots. His maternal side migrated there to start a fishing business, and his paternal side fled there from the holocaust. Ari's grandfather, a rabbi, held a mythical status in Ari's mind as he grew up in Seattle though they never met. Perhaps, this lineage imbued him with his fascination with physics and the inner workings of the Universe.
Ari came up as a natural musician. "In my lifetime, I've seen a lot of great musicians, and always understood what they were doing. My goal from when I was young was to master a musical language to be able to express myself and connect with others without any constraints, like I saw in the masters" he says.
His entry into the expressive possibilities of improvised music came together through discovering his fathers record collection, transcribing Hendrix, Yes, Stevie Ray, and old jazz and blues records. Ari grew up as a kid seeing acts like the Grateful Dead, Nirvana, Pearl Jam, Phish, and at 14 he started performing and studying with the high school jazz ensemble at Roosevelt High School. His band director, and peers sparked a deep study of the jazz legends, while touring in Europe, and attending Jazz Festivals they where able to meet and hear the living legends. For college, Ari was awarded a scholarship to study music on the East Coast at the prestigious New School where he met Robert Glasper and a crew of amazing young artists. Those five years were a formative time where Ari solidified his musicality and learned countless lessons from superstar fellow students and incredible mentors too many to list.
Upon graduation, he found himself an in-demand NYC musician on a hamster wheel of low-paying gigs and grinding it out to pay bills. He opted to return to Seattle for a more laidback quality of life. There, he founded his music education institution, The Music Factory which today employs over 30 local musicians, and has taught thousands of young, aspiring musicians over the course of 15 years.
Serious introspection has been the key to unlocking Ari's vault. "When I started to ask myself why I'm here, I began to get clarity," Ari recalls. "One thing I realized is that I held music in such a high regard that I couldn't see tracks as finished. I also realized I moved away from what I was meant to do. I'm here to make a musical cosmic connection that moves people." – written by Lorne Behrman