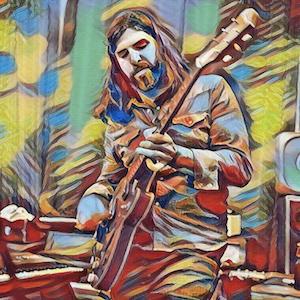 Tommy Brenneck is a guitarist, composer, record producer, and engineer. He's the leader of the instrumental funk and soul outfit Menahan Street Band and member of The Budos Band, Sharon Jones & The Dap-Kings, and El Michels Affair. He is the founder of Dunham Records, a subsidiary of seminal retro-soul label Daptone Records, and was the producer of soul singer Charles Bradley. As a producer and session musician, he has frequently worked with Daptone and Big Crown Records artists, including Lee Fields.
After 20 years of friendship – including time as bandmates, roommates, artist-consigliere – and after running a successful music publishing company together, Brenneck and Jared Tankel started Diamond West Records. Based in Pasadena, CA and founded in the Spring of 2022, Diamond West has partnered with Secretly Distribution for marketing and distribution. The label's first release was Curyman from Brazilian artist Rogê. Recorded and produced by Brenneck at the Sound Factory in Hollywood, CA, and in historic sessions with Arthur Verocai at Cia dos Tecnicos Studios in Rio De Janeiro, Brazil, Curyman immediately establishes Diamond West as a breath of fresh air.
Brenneck was born and raised in Staten Island, New York. He is a self-taught guitarist who joined the original Daptone band The Dap-Kings at the age of 20. Brenneck quickly became one of the essential members of the Daptone family, working closely with the label founder and producer Gabe Roth (aka Bosco Mann), and playing and touring with Sharon Jones, the label matriarch.
Brenneck ran a small recording studio out of his home in Bushwick, Brooklyn before opening Dunham Sound Studios with Homer Steinwiess in Williamsburg in 2008. The all-analog studio operated with Menahan Street Band as the in-house band and recorded artists including Mark Ronson, Rufus Wainwright, Cee-Lo Green, Theophilus London and Diane Birch, among others. In 2014, the studio was succeeded by The Diamond Mine, a recording studio in Long Island City founded with Steinweiss, Nick Movshon, and Leon Michels.
Brenneck has been a session guitarist, writer and producer on projects with Lady Gaga, Cee Lo Green, Dan Auerbach, Beyoncé & Jay-Z, Josh Tillman AKA Father John Misty, Rufus Wainwright and Miley Cyrus, among others. Additionally, he has played guitar for Amy Winehouse and he is one of the musicians featured on "Telepathy" by Christina Aguilera featuring Nile Rodgers.
As an engineer on Yebba's Dawn, he was nominated for the Grammy Award for Best Engineered Album, Non-Classical at the 64th Annual Grammy Awards.
In 2017, Brenneck moved to Los Angeles with his wife and children.
Further listening:
Episode 31 w/ Jared Tankel of the Budos Band
Episode 40 w/ Martin Perna (Antibalas)
Episode 86 w/ Binky Griptite (Sharon Jones & the Dap Kings)