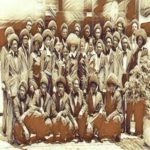 The Kashmere Stage Band was a very successful high school jazz-funk band that existed from the late 1960s through 1977 in the North Houston area of Kashmere Gardens. The group was founded by Conrad O. Johnson, who was the bandleader of Kashmere High School. Conrad "Prof" Johnson was born on November 15, 1915, in Victoria, Texas, and moved with his family to Houston when he was nine. Johnson studied music at Houston College and later at Wiley College in Marshall, Texas, before graduating from there in 1938. Johnson's teaching career began in 1941, where he taught marching band. He later became a jazz band instructor at Houston's Booker T. Washington High School, where he remained until moving to Kashmere High School by 1969.
"Prof" Johnson taught the band to blend funk rhythms with big-band jazz in order to create a unique sound especially designed for live performances and competitions. He worked long hours on evenings and weekends to help his students perfect their sound and also did the arranging for the musical works, composed some of the pieces himself (including the band's showcase piece "Kashmere"), and enlisted the ideas of his students. Because Johnson and his students were so committed, the Kashmere Stage Band quickly gained a reputation for high-quality performances, and they dominated local competition and won national championships. Between 1969 and 1978, the Kashmere Stage band won 42 out of 46 contests in which it participated and was voted "Most Outstanding Band in the Nation" at the 1972 All-American Stage Band contest held in Mobile, Alabama.
In 1969 Johnson took the band into the studio to record its first album, Our Thing. According to Johnson, he hoped the album would provide students with a souvenir of the music they had created, and, it would help establish high standards for future students to follow. In all the Kashmere Stage Band recorded eight albums and three 45 rpm records between 1969 and 1978 on Johnson's own Kram Records label. They toured Europe in 1973. That same year, Houston's mayor designated an official "Kashmere Stage Band Day." In 1975, the band toured Japan. His students, predominantly African-American teenagers, gained valuable performance experience; while some band members went on to become professional musicians, most made their livelihoods in other careers.
After more than thirty years of teaching jazz in Houston schools, Conrad Johnson retired by 1978. This brought to an end the Kashmere Stage Band, although the legacy that he created continued well into the twenty-first century. Kashmere High School became home to the Conrad O. Johnson School of Fine Arts, a Houston ISD magnet school program. Furthermore, the Kashmere Stage Band's recordings have been in high demand, especially by hip-hop deejays and producers. Original albums have sold for hundreds of dollars. In 2006 a compilation entitled Kashmere Stage Band: Texas Thunder Soul, 1968–1974 was released, featuring both live and studio recordings of the group.
In early 2008 some thirty alumni of the Kashmere Stage Band gathered for a month of rehearsals to perform two reunion concerts in honor of their "Prof" Johnson and to raise money for the Conrad Johnson Music and Fine Arts Foundation. On February 1, 2008, they played their first reunion concert at Kashmere High School in tribute to Conrad Johnson, who was in attendance. Johnson died two days later. The concerts resulted in the eventual production of a documentary film, Thunder Soul, which premiered in 2010. After the initial reunion concerts in 2008, members of the Kashmere Stage Band subsequently reformed under the leadership of alumna Jimmy Walker as the Kashmere Reunion Stage Band and performed regularly at various High School events. The alumni group also worked regularly with Kashmere High School's current jazz band.
On this episode, Kashmere Stage Band alumni Gerald Calhoun (bass) and Craig Baldwin (keyboardist/band director), share their stories and memories of their time with the funkiest high school band you've (n)ever heard, the Kashmere Stage Band.
Bio courtesy Chris Lehman via the Texas State Historical Association.